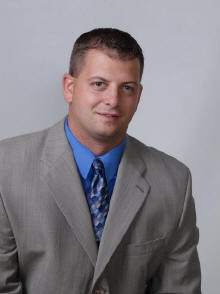 Jason Mattern is entering his third season as full-time assistant coach for the Mountaineers. Mattern, a standout player during his undergrad years, Mattern was employed in the private business world before accepting the assistant coaching position prior to the start of the 2005-06 campaign.
Mattern was a three year letterwinner and two year starter for the Mountaineers after transferring from Penn College. From 2001-2003, Mattern appeared in 70 games with 21 starts where he scored 256 points with 56 assists and 36 steals. He was known for his scrappy style of play.
As a senior during the 2003 season, Mattern started 15 of 28 games and helped the Mountaineers to a PSAC playoff berth and ECAC Championship averaging 4.2 points per game. He led Penn College in scoring during the 2000 season, averaging 20 points per game.
A 1999 graduate of Bloomsburg High School, Mattern was a three year starter on the hardwoods for the Panthers.
Mattern, a PSAC and MU Presidential Scholar-Athlete, received his BA in travel and tourism from Mansfield in 2003.