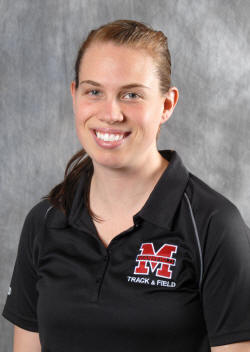 MANSFIELD – Stephanie Cadwell has been named Mansfield University head women's indoor and outdoor track and field coach.
Cadwell, who has been the interim women's head track and field coach since January, was named to the full-time permanent position after a nationwide search.
"It's a great day for women's track and field at Mansfield," said men's head track and field coach Mike Rohl. Rohl had also served as women's head track and field coach before Cadwell was appointed to the interim position.
"Even after a national search, Steph was clearly the best person for the job," said Rohl. "She's already made great strides with the program and will continue to do so."
A 2005 graduate of Mansfield University, Cadwell was a three-time PSAC and MU Presidential Scholar-Athlete after transferring from Herkimer Community College.
An outstanding athlete, Cadwell was a three-year captain and set numerous school records at Mansfield. She earned All-PSAC honors in both indoor and outdoor track. In 2005, Cadwell was named the Mansfield University Female Women's Winter Athlete of the Year.
Prior to her interim appointment, Cadwell was a volunteer assistant coach supervising women's sprints and jumps. She has Level I and II coaching certification in combined events.
To contact Steph Cadwell:

Stephanie Cadwell
Decker Gymnasium
Mansfield University
Mansfield, PA 16933

(570)662-4645
Email: scadwell@mansfield.edu