The History of Cross Country/Track & Field at MU

The 2001-2002 season marks the 39th consecutive year of track and field as an intercollegiate sport at Mansfield University, but it has been a part of the school's athletic program almost since the university's founding back in 1857. Throughout the late 1800s and early 1900s, track and field consisted mainly of Mansfield students competing at annual relays. In the years between 1915 and 1920, Mansfield produced some of the best mile relay teams in the country.

The 1915-16 mile relay team of Irvin Frances, Kim Marvin, Grant Carpenter and T. Foley went undefeated in eight relays including the University of Pennsylvania Relays, considered the national championship of its time. The 1919 relay team of Warren Miller, Elmer Vosburgh, Forrest Richards and Alfred Sayre won the National Championship for Normal Schools and Small Colleges in Philadelphia by 40 yards. The 1920 mile team of Strange, Richards, Boyle and Collier repeated the national honor, defeating Cheyney by a foot.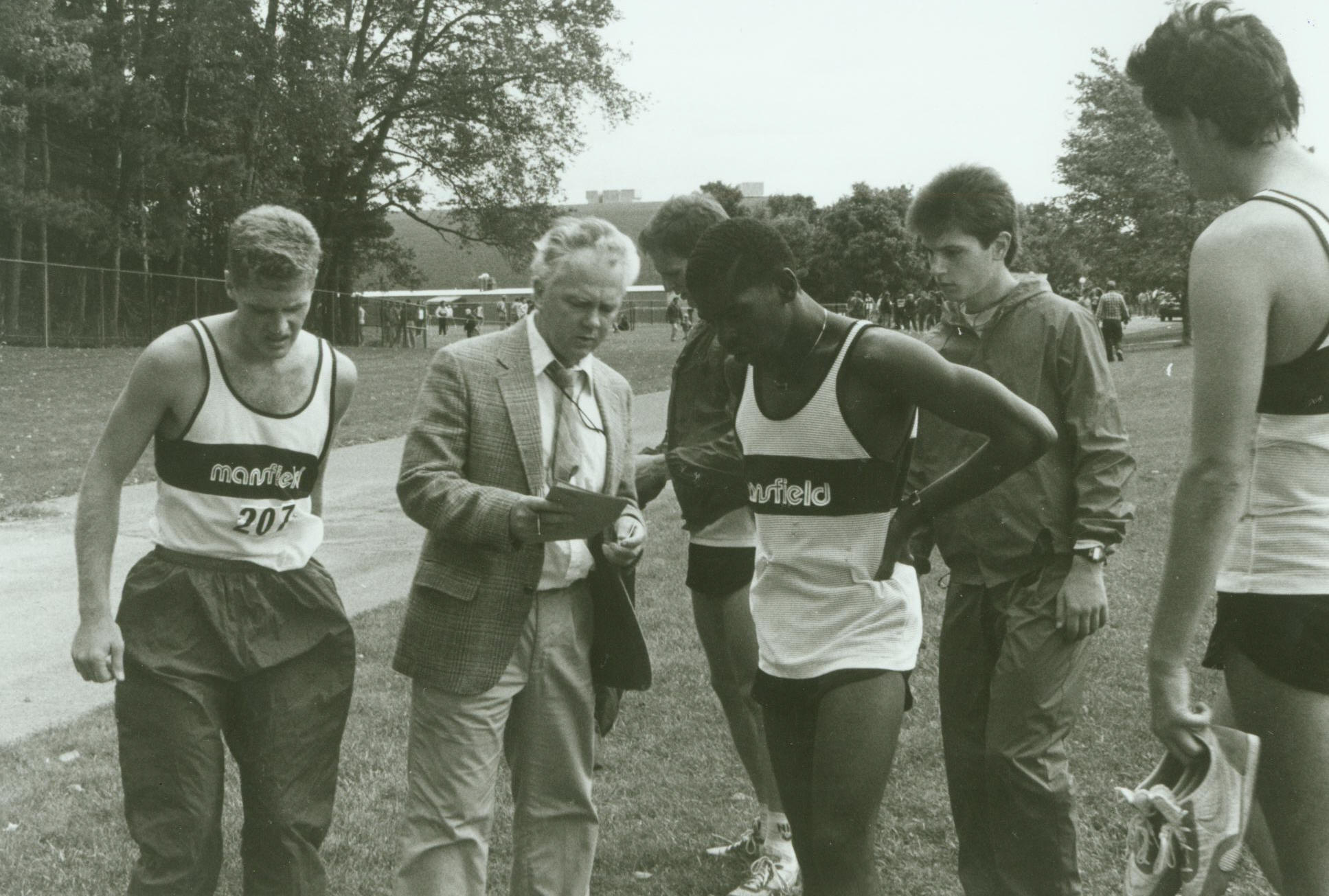 In the early 1970s, the Mountaineers produced two All-Americans. Rich Taulton earned All-American status in the 120-yard high hurdles in 1975 and Leon Haskins in the triple jump in 1976.

The Mansfield track team has had many fine and dedicated coaches over the years, including Robert T. Maxson, for whom the Robert T. Maxson track at Karl Van Norman Field on MU's campus is named. The 1972 season was successful, finishing with a 8-4-1 record. Maxon coached Tom DeRitis, who placed 4th in the 1975 conference meet-the highest place for a Mansfield runner at the time.
Ed Winrow took over after Maxon. A marathoner, Winrow was a two-time winner of the San Blas Marathon in Puerto Rico, and was named the third United States alternate in the marathon for the 1968 Olympic Games. Winrow had successful seasons, which included the 7-2 record of 1977.
Over the last 12 years, MU has produced student-athletes who have set more than 80 school marks. The '95, '97 and '98 women's cross-country teams earned all-academic honors, while Dana Vosburgh earned a spot on the Academic All-America team in '96.

Mansfield is proud of the many accomplishments of student-athletes on the playing fields, but the school's greatest pride comes on graduation day. MU wants its athletes to be students first and athletes second.

Mansfield is a member of the Pennsylvania State Athletic Conference, the largest Division II conference in the nation. MU is also affiliated with the Eastern Collegiate Athletic Association, a voluntary association of more than 286 colleges and universities throughout New England, the Middle Atlantic states, the District of Columbia, Virginia and North Carolina.


To MU Cross Country/Track & Field Page
To MU Sports Page
To Mansfield University News