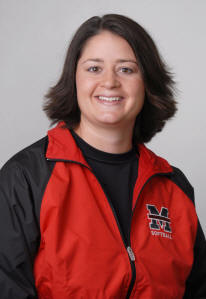 Angie Stackhouse is entering her third season as the full-time assistant and pitching coach for the Mountaineers
Stackhouse came to Mansfield after playing and coaching for the Division I Bucknell University softball team. At Bucknell, she quickly established herself as one of the best catchers in Bison history.
Stackhouse was a starter in 151 of 159 games from 2001-2004 recording a .289 career batting average with 10 home runs and 76 runs batted in.
A first-team All-Patriot League selection in 2004 as a senior, Stackhouse was the second leading hitter in the Patriot League with a .402 batting average. Her 49 hits that season included 10 doubles and six home runs with 35 runs batted in. The six home runs tied the Bucknell single season record while the 35 RBIís broke the Bison school record.
Stackhouse graduated from Bucknell in May of 2004 with a Bachelor of Science degree in business administration, with a religion minor. Following graduation, Stackhouse spent the summer playing softball in the top league in Stockholm, Sweden with the Alby Club.
Stackhouse rejoined the Bison as an assistant coach for the 2005 season and has served as the graduate assistant for the past two seasons during which she completed her classroom requirements for a masters of science degree in education in college student personnel.
Stackhouse has been instrumental in the Mountaineers recent success, including a PSAC playoff berth in 2009, since joining the program especially in recruiting and pitching.