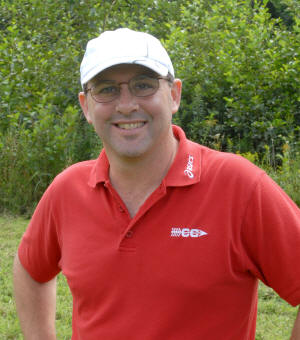 In his 9th year as the head coach of the men's and women's track and cross country programs at Mansfield University, Michael Rohl has elevated the program from pretender to contender in the Pennsylvania State Athletic Conference.
It is impossible to talk with Michael Rohl and not come away excited about track and field at Mansfield University. Coach Rohl has infused his programs with his enthusiasm, commitment and success.
Upon assuming the post, he pushed to increase the squad size while working to improve individual and team performance. Those early building blocks have paid off handsomely for the Mountaineer program with record finishes at the PSAC and NCAA Championships.
During his first eight years, 231 school records have been broken or reset in indoor and outdoor track and field alone. His 2005 women's cross country team finished 5th overall in the PSAC Championship and in the NCAA East Regional, the best finish in school history. In 2005, the women's team finished a school record eighth overall at the PSAC Indoor Championship while posting a school record seventh place finish at the PSAC Outdoor Championship.
Over the course of his tenure, Rohl has coached over 30 athletes or relay teams that have earned All-PSAC honors and seven individuals that have earned All-Regional cross country honors. Eleven athletes have competed at the NCAA Division II National Championship meet including four All-Americans. His teams have fared equally well in the classroom earning numerous Academic All-American team honors.
A 1989 graduate of the University of Wisconsin-Parkside, Rohl brings a wealth of knowledge and experience to Mansfield University. He has coached track athletes from the high school level to the Olympic elite. His coaching credits include a number of All-Americans while serving as assistant coach at the University of Wisconsin - Eau Claire and the University of West Georgia. Elevated to head coach at West Georgia where he earned his MA in English, Rohl left that position to concentrate on a bid for the U.S. Olympic team in racewalking at the 2000 Olympics.
As a competitor, he was a stellar athlete. A four-time collegiate All-American, he is a former USTAF National Champion and has been a nine time member of the U.S. national team. He first competed in the U.S. Olympic trails in 1988. A devastating injury threatened to end his track career and he surrendered his prime competitive years to rehabilitation. He made a comeback for the 1996 and 2000 Olympic trials where he placed fourth, missing a berth on the U.S. Olympic team by one place.
Rohl is USATF Level II certified in all five areas Sprints, Jumps Throws, Combined Events, Distance and ITC. He was named coach of the US national team for the US-Canadian Dual Meet in 2005. He also serves on the NCAA Coaches Awards Committee.
Coach Rohl and his wife Michelle, a four-time Olympian and assistant coach, live in Mansfield with their five children, Molly, Sebastian, Ayla, Gabe, and Jude, who was born on July 24, 2006.

Michael Rohl
Decker Gymnasium
Mansfield University
Mansfield, PA 16933
(570)662-4645
Email: mrohl@mansfield.edu