Since being promoted to head coach in 1999, Ruth Hermansen has changed both the perception and quality of the Mansfield University women's basketball program.
Over the course of her first six seasons Hermansen took a program that won just one game in 1998, to a school record-tying 14 wins in 2003-04. During that relatively short period of time, she has directed the Mountaineers to more wins than any coach in the programs' history.
The 2005-06 season proved to be a milestone for the women's program when Hermansen directed the Mountaineers to their first ever PSAC playoff berth.
The young Mountaineers would duplicate that performance in 2006-07 when they once again reached the PSAC Playoffs.
Three of Hermansen's first six teams have produced three of the four most winning campaigns in school history, with the 2003-04 squad tying the all-time wins in a season record. That team also tied for a first ever PSAC playoff spot, only to lose out on a criteria tie breaker.
In 2002-03, Hermansen finished second in PSAC East Coach of the Year voting after directing the Mountaineers to a 11-15 overall record and tying the school record for conference wins in a season.
She also has produced back-to-back PSAC East Rookies of the Year in 2002 and 2003, while eight players have earned All-PSAC East honors over the course of the last three seasons including the Player of the Year in 2005-06.
After serving as an assistant coach for two seasons, Ruth Henderson took over the reigns of the Mansfield University women's program for the 1999-2000 season and promptly directed the Mountaineers to their second best conference finish in school history.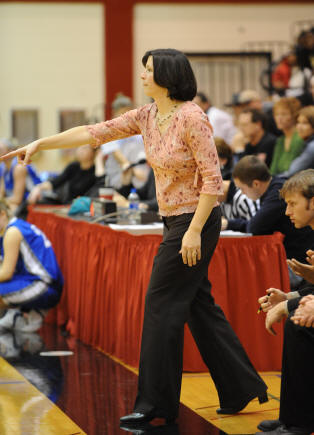 Hermansen directed the 2001-2002 team to the third most wins in school history and to within eight points of the school's first-ever PSAC postseason berth.
Bringing stability, vision and a love of the game to the program, Hermansen has quickly earned the respect of her opponents while establishing Mountaineer basketball as a competitive for
ce in the PSAC East.
A 1991 graduate of Mercyhurst College with a degree in family ecology, Hermansen was a key member of the Laker basketball program. She helped Mercyhurst capture two straight ECAC Division II Championship berths in her sophomore and junior seasons while earning Mid-Eastern Collegiate Conference (MECC) All-Rookie team honors.
An All-MECC first-team selection her senior season, Hermansen was second in the conference in scoring (16.4 ppg), fifth in rebounds (7.4 rpg) and sixth in field-goal percentage (50.5) and steals (2.5 spg).
Hermansen graduated from Seneca High School in 1987 where she earned All-County honors in volleyball, basketball and track & field. She was named Seneca's Female Athlete of the Year her senior season.
After graduating from Mercyhurst, Hermansen served as an assistant coach at the high school level along with her alma mater. Prior to joining the Mounties for the 1997-98 season, she had been the head women's basketball coach at Fairview High School since 1993.
In the summer of 2008, she graduated from the NCAA coaching academy in Denver, CO.
Hermansen is also currently a student in Mansfield University's inaugural cohort for the Master's in Organizational Leadership program. She is also taking courses in Mansfield University's inaugural cohort for the undergraduate program in Outdoor Recreation Leadership.
Hermansen and her husband Gary live in Mansfield with their sons Cody and Andy.
Hermansen File
| | | |
| --- | --- | --- |
| Year | Record | Season Result |
| 1999-2000 | 6-20 | |
| 2000-2001 | 3-23 | |
| 2001-2002 | 10-16 | |
| 2002-2003 | 11-15 | |
| 2003-2004 | 14-16 | |
| 2004-2005 | 9-16 | |
| 2005-2006 | 12-16 | PSAC Playoffs |
| 2006-2007 | 13-14 | PSAC Playoffs |
| 2007-2008 | 6-21 | |
| 2008-2009 | 7-20 | |
| Total | 91-177 | |
Coach Hermansen can be reached at:
Decker Gymnasium
Mansfield University
Mansfield, Pa. 16933
(570) 662-4456
E-mail: rhermans@mansfield.edu