102 Years of Mountaineers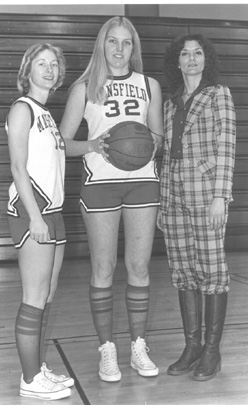 The 2000-2001 campaign marked the second century of women's basketball at Mansfield University.
Although accounts of women playing basketball on the campus of Mansfield State Normal School date back to 1896, it was not until the winter of 1900 the first team was organized.
Under the direction of Edith Lownsberry -- the women's gymnastics instructor who was the first head coach and star player -- Mary Clohessey, Erie Potter, Margaret Nye, Julie Fitzpatrick and Maud Garbett became the first women's athletic team in school history.
Mansfield continued to field a team and play outside competition until 1905 with the advent of intramural games between graduating classes. Except for brief forays in intercollegiate competition in the 1920s and 30s, intramural play was the only offered for women.
In 1946 Helen Dieffenbach Lutes arrived on campus as the director of women's physical education. Under Lutes, the Women's Athletic Association provided basketball competition with as many as 120 women participating.
In the fall of 1975-76, the student-government funded women's basketball as a varsity sport with intercollegiate competition under head coach Sharon Zegalia.
Since then, five players have been inducted into the Mansfield University Athletic Hall of Fame -- the highest honor a student-athlete can achieve at Mansfield.
Alicia Hamerla was the star of the '70s. A four-year starter, Hamerla played in 50 of the first 51 games in the modern era of Mountaineer women's basketball. Donna Kukura was a four-year starter in the early 1980s, becoming the program's first All-PSAC selection in 1982 and graduated as the school's all-time points and assists leaders.
Sue Sutton played on some of the most successful teams in school history during the late 1970s and early 1980s before a knee injury ended her career. Glenda Oswald was inducted into the Hall of Fame in 1999. A starter in school record 106 straight games from 1989-92, Oswald still ranks among top five in both career scoring and rebounding. Beth Guiliani was inducted with the Class of 2002 and still ranks fifth in school history with 1,084 points. Guiliani was a two-time All-PSAC East selection and PSAC East Rookie of the Year during her career.
Since 1982, Mountaineer players have been named to All-PSAC honors 20 times. Glenda Oswald, Paula Olesky, Tina Craig, Beth Guiliani and Kathy Murphy were all two-time all-conference selections while Donna Kukura, Lisa Sherman, Sondra Tracy, Denise Pitcher, Karen Blumer, Becky Dutko, Jennifer Nichols, Lynelle Mosley and Alison Tagliaferri have been selected once.
Today, the Mansfield University women's basketball program is building a foundation for a better future. Under fourth year head coach Ruth Henderson, five different players have earned PSAC Rookie of the Week honors twelve times in the past three seasons and the caliber and skill levels of incoming players continues to grow.
Mansfield is a member of the Pennsylvania State Athletic Conference, one of the largest and most competitive NCAA Division II conferences in the nation. The conference annually produces some of the highest quality women's basketball players in Division II.
MU is also affiliated with the Eastern College Athletic Conference (ECAC). A voluntary association of more than 265 colleges and universities throughout New England, the Middle Atlantic States, the District of Columbia, Virginia and North Carolina.