RELEASE DATE: 3/10/07
FOR IMMEDIATE RELEASE: Mike Gray Paces Mounties With Fourth Place Finish -- Dann Fifth in 5000
Conway, SC – The Mountaineer track and field team competed in their first meet of the 2007 outdoor season on Saturday in Conway, South Carolina at Coastal Carolina University. Mike Gray paced Mansfield with a fourth place finish in the shot put.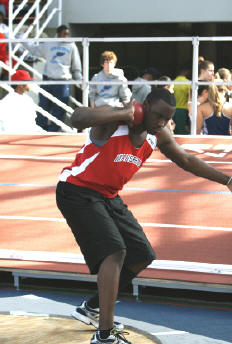 Gray tossed the shot 48'06.75" to earn the highest finish for the Mountaineers. Gray would return in the discus to finish 16th with a toss of 135'08".
On the women's side, senior standout Nicole Dann finished fifth in the 5,000 with a time of 19:50.71 to earn the highest Mountie woman finish.
Katrina Brumfield finished eighth in the high jump with a jump of 5'03".
Amanda Fedish finished 10th in the 200 with a time of 26.36 seconds and finished 15th in the 100 with a time of 13.02 seconds.
The Mountaineers will compete again at Coastal Carolina on Friday and Saturday, March 16th and 17th, at the Shamrock Invitational.