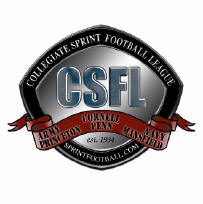 Welcome to the online home for Mansfield University Sprint Football.
Mansfield will become the first public institution in the nation to offer Sprint Football beginning during the fall of 2008. This website was created to help answer questions about this new endeavor, as well as provide detailed updates throughout the year.
Along the left hand menu, you can find information about the sport and the league, as well as links to the conference website and all participating schools in the conference.
Any student-athletes considering playing sprint football at Mansfield in the future can fill out an online questionnaire by clicking on the helmet to the left.
Included on this page is a link to the Mansfield University Football History page.