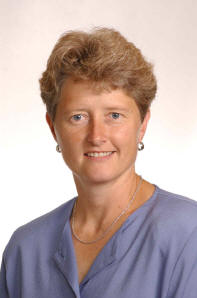 Now entering her 11th season as the head coach, Diane Monkiewicz has taken the Mountaineer field hockey program to heights never before reached in its 90-year history.
Since taking over the reigns of the program in August of 1998, Monkiewicz has directed the Mountaineers to some of the most impressive milestones in school history including wins in a season (13), goals in a season, back-to-back winnings seasons, national ranking in the final NCAA Division II poll, and the programs' first ever postseason championship winning the ECAC Division II title in 2001.
Under Monkiewicz's tutelage, the Mansfield University field hockey program has broken into the national rankings for the first time and produced seven NFHCA Division II All-Americans selections.
Last season, the Mountaineers remained ranked in the top 10 in the nation for the duration of the season and qualified for their first PSAC playoffs.
Monkiewicz came to MU from the University of Iowa, where she excelled as a player and a coach for the Division I Hawkeyes. She was a member of four Big Ten Championship teams during her playing career at Iowa, twice advancing to the NCAA Championship Tournament. Monkiewicz served as team captain in 1983 and earned her B.S. in health, physical education and dance in 1984.
Starting her coaching career at Archbishop Carroll High School in Radnor, PA, Monkiewicz built a dynasty that won four league championships. Between 1991 and 1993, her teams were undefeated in league play and she was selected "Coach of the Year" three times. Seventeen of her players went on to careers at NCAA Division I programs.
Monkiewicz left Archbishop Carroll for Ohio State in 1994 where she served as an assistant coach for two seasons. During her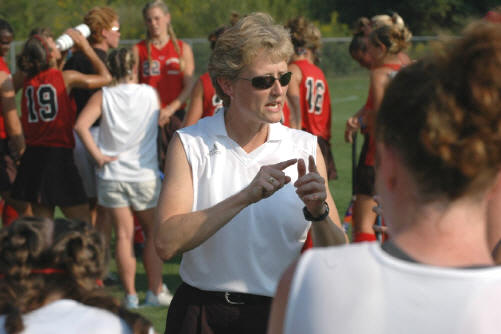 stay, the Buckeyes posted two winning seasons and advanced to the NCAA Championship Tournament for the first time in school history.
In 1997, Monkiewicz rejoined her alma mater as an assistant coach. In addition to her on-field duties, she was responsible for coordinating all recruiting.
Monkiewicz brings more than 20 years of collegiate and high school field hockey experience to the Mountaineer program. She has also served as a member of the Board of Directors for the United States Field Hockey Association (USFHA) and other national committee's.
Monkiewicz File
| | | |
| --- | --- | --- |
| 1998 | 4-11 | |
| 1999 | 9-8 | |
| 2000 | 7-10 | |
| 2001 | 13-7 | ECAC Champions |
| 2002 | 10-7 | |
| 2003 | 5-15 | |
| 2004 | 6-13 | |
| 2005 | 6-11 | |
| 2006 | 11-10 | PSAC Playoffs |
| 2007 | 11-7 | |
| Total | 82-99 | |


Coach Monkiewicz can be reached at:
Decker Gymnasium
Mansfield University
Mansfield, Pa. 16933
(570) 662-4637
E-mail: dmonkiew@mansfield.edu