RELEASE DATE: 1/24/07
FOR IMMEDIATE RELEASE: Mountaineer Baseball to Host Winter Clinics in February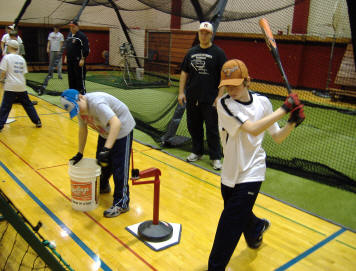 MANSFIELD – As with the tradition of coach Harry Hillson's successful baseball camps and clinics programs, the Mountaineer baseball squad will again be hosting winter clinics during the month of February.
The clinics begin in the first week of February and run through the first week of March.
Clinics include hitting clinics as well as pitching and catching specialty clinics. Also, there will be a preseason skills and little league day on February 18 where coaches will be invited to attend the camp as well.
Hitting clinics are for ages 5-18 and include three hours of instruction, cage hitting from a pitching machine, drills, tee work and practice with the latest in training aids and techniques. Different sessions are set up for the younger kids and the older kids. The cost of each session is $35.
Pitching and Catching specialty clinics will be held for ages 8-18 on February 11th. The Pitching and Catching Clinic is designed to provide instruction in both pitching and catching while the coaches will emphasize the physical mechanics along with the mental requirements of pitching and catching. For pitchers this includes three hours of instruction, live throwing from indoor mounds, drills, videotape analysis of pitching delivery and a demonstration of a pitcher conditioning program. For catchers this includes drills for framing, footwork, throwing, blocking, strategies and advanced techniques. Cost for this session is $35.
The preseason skills and little league day will be held on February 18th and is open to all players ages 6-14 as well as all little league coaches and parents. The clinic will go over fundamentals and techniques for younger players while teaching coaches drills and techniques to use in practices. Some of the focuses of the clinic will include:
*Hitting
*Coaches' Pre-Game Preparation
*Pitching Philosophy
*Skill Development
*Infield Play
*Pitching/Catching
*Weight Training for Baseball
*Outfield Play
*Base running
*Practice Development Progression and Drills
*Problem Identification and Adjustment
*Psychological Aspects of Baseball
*Fundraising
*Pre-Season Skills
Cost of the clinic is $20 per player and $5 per coach or parent.
For more information including exact dates and times as well as registration information or to register online, visit the new home of Mountaineer camps and clinics online.
Click Here to Download the Winter Clinics Flyer (PDF)