RELEASE DATE: 6/12/07
FOR IMMEDIATE RELEASE: Ryan Wyland Named to PSAC Spring Top 10
MANSFIELD Ė Mountaineer senior standout Ryan Wyland (Williamsport/Loyalsock) continued to add to his post season honors by being named to the PSAC Spring Top Ten.
The Top Ten Awards, selected by the PSACís sports information directors, recognize student-athletes who distinguish themselves in the classroom, as well as in the arena of competition. The conference designates Top Ten Award winners after each of the sports seasons: fall, winter and spring.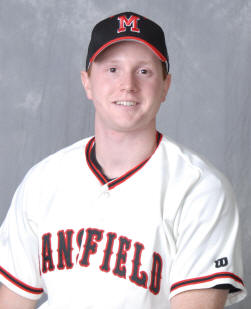 To be a candidate for the Top Ten Awards, a student-athlete must have achieved a minimum of a 3.25 cumulative grade point average and must be a starter or key reserve with legitimate athletic credentials. Only student-athletes from the spring sports season are eligible for the Spring Top Ten Awards. Those sports are: baseball, softball, women's lacrosse, men's and women's outdoor track & field, men's and women's tennis, and golf.
At the end of the academic year, the league announces the Scholar-Athlete Awards, which recognize student-athletes on all PSAC squads with 3.25 cumulative GPAs or better. Additionally, the PSAC names the top Male and Female Scholar-Athlete of Year, which will be re-named this year as the Pete Nevins Male and Female Scholar-Athletes of the Year.
Wyland, the PSAC East Player of the Year in baseball this season, was named to the Top 10 after finishing his Mansfield career with a 4.0 gpa and leading the Mountaineers on the field.
The all-around star was named to the first team All-PSAC East squad as a pitcher and the second team as an outfielder this season.
Wyland next earned the ABCA/Rawlings first team All-Region honor as an outfielder.
From the leadoff spot, he excelled at the plate ranking second among full-time starters on the team with a .331 average and 24 RBI in 38 games played and led all Mountaineers with 47 hits, 71 total bases, 17 extra-base hits and went 13-for-13 in stolen base attempts.
On the mound this season he made nine appearances with seven starts and six complete games. He registered a 6-2 record with a 3.40 ERA with 27 strikeouts over 50.1 innings.
Wyland hopes to play baseball professionally next year.