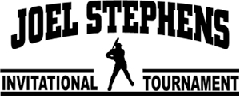 RULES
1) No re-entry. A player who is substituted for may not return to the line-up except to run for the catcher (rule 2).
2) A runner must be used for the catcher when he reaches base. Runner can be any player who is not in the line-up.
3) Designated hitter may only be used for the pitcher.
4) NCAA force play slide rule will apply under American Legion rules, which are in effect. Runner must avoid contact with fielders.
5) Roster limited to 18 players, per American Legion rules. Roster must be submitted before team plays first game. No substitutions allowed once tournament play starts. Roster in tournament program is not considered official.
6) Games will be played to a conclusion if possible.
7) 2 ½-hour time limit on games, with the exception of semi-finals, finals, and last game of the day on each field. In all time limit games, no inning shall start past 2 ½ hours. All time limit games will be finished by the international tiebreaker rule (rule 7). Umpires will be responsible for timing of games.
7) Games, except semi-finals and championship, tied after seven innings will be broken by international tiebreaker rules. In tiebreaker innings, each team starts with a man at second base. The man at second base is the player that made the last out in the previous inning. Complete innings will be played until a winner is determined. Games not determined after 10 innings will be suspended until the next morning.
8) Semi-final and championship games tied after seven innings will be played out, under regular rules, until a winner is determined.
9) All games suspended due to weather are considered suspended games.
10) Tiebreakers to decide tournament semi-finals are as follows: 1) If two teams are tied, head-to-head meeting will be used, with winner advancing. 2) If three or more teams are tied, the first tiebreaker will be runs against during tournament with lowest total(s) advancing. If teams are still tied after runs against, a coin flip will decide which team(s) advance.
11) 10-run rule after five innings is in effect for all games.
12) Each team is responsible for providing two balls at a time per game.
13) Teams are responsible for foul balls on their side of the field. In order to keep games running smoothly, teams should have a warm up catcher ready to warm-up your pitcher between games.
14) Pre-game infield is 10 minutes per team. Batting practice will be held in the batting cages. Teams should warm up in
the outfield and not in the dugout area.
Pepper in the outfield only.
15) All teams will play at least three games. A fourth (consolation) game is available for teams not advancing to the semi-finals, provided an opponent can be arranged.
16) Tournament schedule and game times are subject to change based on weather and other circumstances.
17) Coaches must leave cell phone numbers with Harry Hillson or Bill Steele in case you need to be contacted.
18) Winning team is responsible for filling out and delivering game report to Shaute Field Press Box at the conclusion of each game.
19) In the event of questions, clarifications or disagreement not covered in these rules, existing American Legion rules will apply.
HARRY HILLSON BILL STEELE
MANSFIELD U. HEAD COACH TOURNAMENT DIRECTOR
(C)607-368-1412 (C)607-765-8238
(H)570-662-7273 (H)607-962-8287
STEVE McCLOSKEY TERRY DAY
MU SPORTS INFORMATION MU PUBLIC RELATIONS

(C)570-337-1308 (C)607-738-0558