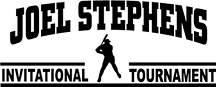 QUICK FACTS
· The tournament is dedicated to honor Joel Stephens, not for his outstanding athletic ability, but for the manner in which he lived his life. The tournament motto is "For the love of the game."
· The Joel Stephens Tournament has expanded its field twice. From eight to 12 teams in 2000 and from 12 to 16 teams in 2002.
· The Joel Stephens Tournament has raised thousand's of dollars for the Joel Stephens Foundation, which distributes the money to area charities such as The Josh Palmer Fund, The Starwish Foundation and others.
· Mansfield University has served as the host for the Joel Stephens Tournament since its inception.
· Ferris-Goodridge is the only team to win the tournament championship more than once, taking the title in 1999 and 2003.
· Four teams – Corning Post 746; Elmira Heights Post 154; Horseheads Post 442 and Tioga County All-Stars--now Mansfield Legion Post 478--have participated in every tournament.
· In 2005, Conneaut (OH) Post 151 became the first U.S. based team from outside of Pennsylvania and New York to participate.
· WELM-AM 1410 has been the official radio station of the Joel Stephens Invitational since its inception.