RELEASE DATE: 7/2/08
FOR IMMEDIATE RELEASE: 10th Annual Joel Stephens Invitational Tournament opens with single game on Thursday night at Shaute Field – Tournament opener broadcast live on WELM 1410 AM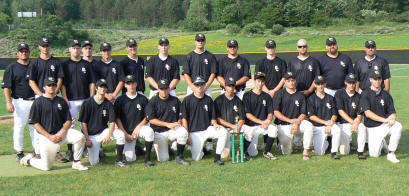 MANSFIELD – The 10th Annual Joel Stephens Invitational Tournament opens Thursday night at 6 p.m. at Mansfield University's Shaute Field with Horseheads taking on Northern Tioga.
Thursday's opener, along with eight other contest including the Stephens Championship game ,will be available live on WELM 1410 AM.
The 16-team field includes other local entries including teams from Elmira Heights, Corning, Big Flats, Mansfield, Jersey Shore, Montoursville, and Bradford County. An additional 23 games will be played on Friday and Saturday at Shaute Field, Kelly Field in Smythe Park in downtown Mansfield and at Joel Stephens Field at Williamson High School in Tioga.
The winners of each of the four divisions will play for the Joel Stephens Championship on Sunday while the runners-up in each division will square off for the Josh Palmer Championship.
Bradford County is the defending Joel Stephens champions while Mansfield is the defending Josh Palmer championship.
Other teams in the tournament include Bath (NY), Fabius (NY), Hornell (NY), Greece (NY), Cherry Hill (NJ), Lansing (NY), and Brockville (ONT).
Opening Ceremonies with all 16 teams will be held on Friday at 2 p.m. at Shaute Field.
A compete schedule and updated scores and stories will be available on-line at www.GoMounties.com during the course of the tournament.
Admission is free to all games.
A raffle featuring four tickets to a Philadelphia Phillies game this year including dinner and a personal tour of Citizens Bank Park with Philadelphia Phillies General Manager Pat Gillick along with autographed Major League items will also be held.
Raffle tickets are $1 each or 6 for $5 and will be available at Shaute Field starting on Friday.