Stephens Tournament Championship Sunday Results
2008 JOEL STEPHENS INVITATIONAL TOURNAMENT
CHAMPIONSHIP DAY
2008 STEPHENS CHAMPIONSHIP GAME
SHAUTE FIELD
Montoursville 002 000 2-3-6
Greece 104 313 12-14-1
Montoursville: Curtis Jacobson (L), Jason Cristini (4) and Marc Schoch
RBI – Chad Jacobson
Greece: Alex Volbergs (W) and Mike Bellucco
RBI – Nick Paternico 3, Andy Liddel 2, Mike Bellucco, Mike Stark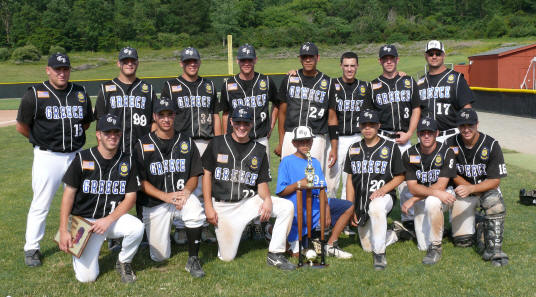 Greece rallied from a 2-1 deficit with four runs I the bottom of the third to cruise to a 12-2 win over Montoursville claim their first Joel Stephens Invitational Championship.
Alex Valsburgs was named the tournament MVP after throwing a complete game win. Nick Paternico drove in Greece's first three runs while going 2-3 from the plate.
Montoursville, one of the best defensive teams in their first four tournament wins, committed six errors in the contest. Curtis Jacobson, who earned a save in the semi-final win over Bradford County, took the loss.
PAST TOURNAMENT CHAMPIONS
2007 Bradford County
2006 Montreal
2005 Syracuse
2004 Lamm Post
2003 Ferris-Goodridge
2002 Hornell
2001 Bellefonte
2000 Newburg
1999 Ferris-Goodridge
2008 Joel Stephens Tournament
All Tournament Team
Joel Stephens MVP Award
Alex Valbergs, Greece
Stan and Doc Heaps Sportsmanship Award
Montoursville Post 104
Randy Naylor Outstanding Outfielder Award
Willie Pantoja, Greece
Cliff Dobson Outstanding Infielder Award
Marc Schoch, Greece
Jeff Hunter Outstanding Pitcher Award
Matt Hummell, Brockville
Jeff Jones Outstanding Hitter Award
Mike Bellucco, Greece
All Tournament Team
From Horseheads, Mark Cicotti
From Big Flats, Pete Ferguson
From Brockville, Jerry Coleman
From Elmira Heights, Brian Ramich
From Bradford County, Shane Raupers
From Cherry Hill, Austin Ley
From Greece, Jordy Smola & Nick Paternico
From Montoursville, Matt Miller & Chad Jacobson
Stephen's Semi-final One
KELLY FIELD
Montoursville rallied scoring all four of its runs, including three with two outs, in the sixth innings to knock defending champion Bradford County in a Stephens semi-final at Kelly Field.
Montourville starter Chad Jacobson the first nine batters he faced before Bradford's Shane Raupers led of the fourth inning with an infield hit and later moved to third before stealing home with two outs to score the game's first run. Dakota Roof doubled later in the inning to drove in the game's second run.
Bradford threatened to add another run in the fifth but Caleb Shelden doubled and was thrown out at the plate by right fielder Ethan Carey after a single by Raupers.
Chad Jacobson singled to led off the sixth inning for Montoursville and scored on a double by Matt Miller. With two outs, Eric Flood singled in Miller before Curtis Jacobson singled to drive in two runs.
Chad Jacobson got the win going the first five innigs allowing fouor hits while striking out six and walking one. He was relieved by younger brother Curtis Jacobson who picked up the save allowing three hits and striking out two over the final two innings.
Bradford closed the gap to 4-3 in the bottom of the seventh on an RBI single before Jacobson got Raupers to ground out to end the game.
Eric Wells took the loss giving up seven hits while striking out four over six innings.
Montoursville 000 040 0 4-7-0
Bradford County 000 200 1 3-7-2
Montoursville: Chad Jacobson (W), Curtis Jacobson (6) and Mark Schoch
2b – Curtis Jacobson, Matt Miller
RBI – Matt Miller, Eric Flood, Curtis Jacobson 2
Bradford County: Eric Wells (L), Mike Martin (7) and Caleb Skeldon
2b – Dakota Roof, Caleb Skeldon
RBI – Dakota Roof, Caleb Skelden
Stephens Semi-final Two
SHAUTE FIELD
Greece capitalized on two Cherry Hill errors to plate four runs in the first inning and then held on for a 5-3 win in the Stephens semi-finals at Shaute Field on Sunday afternoon.
Greece scored four unearned runs in the first inning and held off a late rally from Cherry Hill, who plated two runs in the seventh and loaded the bases in each of the last two innings.
Jordy Smola went the distance to get the win for Greece while Nick Paternico led the team at the plate with two RBI.
Joe Miller was credited with the loss for Cherry Hill, who out-hit Greece 9-4 in the loss. Austin Ley had two doubles in the loss.
Greece 400 010 0 5-4-3
Cherry Hill 010 000 2 3-9-2
Greece (4-0): Jordy Smola (W) and Mike Bellucco
3B – Derek Twamley
RBI – Nick Paternico -2, Mike Stark
Cherry Hill (4-1): Joe Miller (L), Luke Peyton (7) and Shaune Collins
2B – Austin Ley -2, Jason Kelmer, Kevin Bordner
RBI – Kelmer, Bordner, Collins
Palmer Championship
Final Score – Brockville 17 Horseheads 11
No Story or stats available
Palmer Semi-final One
SHAUTE FIELD
Horseheads put four runs on the board in each of the first two innings and went on to defeat Big Flats 8-1 in the semi-finals of the Palmer Championship on Sunday morning.
Mark Cicotti earned the win for Horseheads after throwing the complete game. Ben Little led the team with a 3-4 appearance at the plate with two doubles, two runs and an RBI.
Mark Terwilliger was credited with the loss for Big Flats after being relieved in the second inning. Jess Kelly entered the game and held Horseheads scoreless for the final five innings.
John Morrison was 2-4 with a double and an RBI for Big Flats.
Horseheads 440 000 0 8-11-4
Big Flats 001 000 0 1-4-2
Horseheads (3-1): Mark Cicotti (W, 1-1) and Mike Graham
2B – Ben Little -2, Ernie Kirkwood
RBI – Mark Minotti -2, Graham, Little
Big Flats (2-2): Mark Terwilliger (L, 0-1), Jess Kelly (2) and Pete Ferguson
2B – John Morrison
RBI – Morrison
Palmer Semi-final Two
KELLY FIELD
Brockville's Nathan Slack hit a three run home run and added another RBI to lead Brockville to a 9-3 win over Elmira Heights in the semi-finals of the Palmer Championship on Sunday morning at Kelly Field.
Dillon Lowery was credited with the win on the mound.
David Clune had a towering solo homerun for Elmira Eights and recorded all three RBI. Brandon Masker was credited with the loss on the mound.
Elmira Heights 200 010 0 3-4-2
Brockville 001 053 x 9-10-3
Elmira Heights (2-2): Brandon Masker (1-1) and Mike Lane
HR – David Clune (1)
RBI – David Clune -3
Brockville (3-1): Dillon Lowery (W, 1-0) and Criag Coupland
2B – Jerry Coleman HR – Nathan Slack (1)
RBI – Slack -4, Coupland