RELEASE DATE: 6/29/07
FOR IMMEDIATE RELEASE: Horseheads Wins Opening Game of 2007 Joel Stephens Tournament 10-2 over Northern Tioga – Saturday's action features 11 games and Opening Ceremonies
MANSFIELD – Nick Abrunzo's two hits and two RBI led Horseheads to a 10-2 route over Northern Tioga in the opening game of the 2007 Joel Stephens Invitational Tournament at Shaute Field Friday evening.
Northern Tioga scored twice in the top of the first inning on a RBI double by Quay Ward and single by Wade Taylor.
Horseheads was held hitless for the first two innings before erupting for five runs in the bottom of the third inning with Tim Harvey, Mike Graham and Micah Jackson each driving in runs with singles.
Horseheads pitcher Mark Ciccotti picked up the win throwing five innings striking out four batters and recording no walks. Kevin Kline closed the final two innings of the games and allowed no runs.
Jay Graham picked up the loss for Northern Tioga after five innings of work allowing nine runs and eight hits.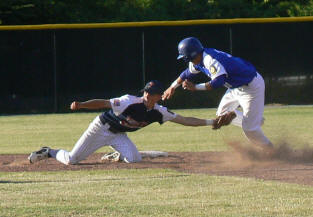 Horseheads starts off the 2007 tourney at 1-0 while Northern Tioga begins 0-1.
Saturday is the first full day of the Stephens Tournament with 11 games scheduled at Mansfield University's Shaute Field, Kelly Field in Smythe Park in downtown Mansfield and at Joel Stephens Field at Williamson High School in Tioga.
In a late change, the 11:30 game for tomorrow at Joel Stephens Field in Tioga has been moved to 10:30am to account for the pride ride.
Check back each evening at www.gomounties.com for updated results and information.
Northern Tioga 200 000 0 2-7-4
Horseheads 005 221 x 10-9-5
Horseheads (1-0): Mark Ciccotti (W, 1-0), Kevin Kline (6), and Mike Graham
RBI -- Abrunzo-2, Jackson, Graham, Harvey, Little, Cafolla
Northern Tioga (0-1): Jay Graham (L, 0-1), Jeff Woodruff (6), and Quay Ward
2B – Ward RBI – Ward, Taylor