RELEASE DATE: 7/01/07
FOR IMMEDIATE RELEASE: Four Local Teams Advance to Stephens Finals for First Time in Tournament History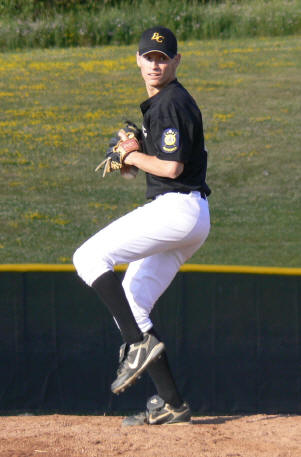 MANSFIELD – Bradford County and Jersey Shore finished up divisional play with undefeated 3-0 records to win their divisions and advance to the Stephens Semi-finals where they will be joined by fellow local squads from Horseheads and Big Flats.
Bradford took on both squads from Corning on Sunday and defeated each to finish divisional play at 3-0 and secure the Naylor/Dobson division title.
Jersey Shore took down Hornell in their only contest of the day to finish divisional play at 3-0 and secure the Heaps/Heaps division title.
The remaining two divisions were closely contested, both requiring the use of tie-breakers to determine the standings.
Horseheads finished play yesterday at 2-1 and was forced to wait all day while the remaining games were played. With Lansing finishing up at 2-1 in the same division, the head-to-head tie-breaker was enforced. Horseheads defeated Lansing 6-5 yesterday making them the Palmer/Henneman Division champions.
The most tightly contested battle was in the Hunter/Jones division as Big Flats, Mansfield, and Vestal all finished divisional play with a 2-1 record forcing a three-way tie-breaker. The three-way tie breaker goes to runs allowed. Mansfield and Big Flats each allowed 16 runs in divisional play while Vestal allowed 17 runs to eliminate them from the tie-breaker. A coin flip was used to break the remaining tie and Big Flats came out victorious to secure the Hunter/Jones division title.
Big Flats and Horseheads will play in the Stephens semifinals tomorrow at noon at Shaute Field while Jersey Shore and Bradford will square off in a match of the undefeated at Kelly Field at noon.
Corning Gray advanced to the Palmer semifinals out of the Naylor/Dobson division by way of a 3-team tie-breaker and will play Fabius, who finished second in the Heaps/Heaps division, at 9:00am at Kelly Field.
Mansfield will play Lansing, who finished second in the Palmer/Henneman division by way of a tiebreak, at Shaute Field at 9:00am in the Palmer semifinals.
Day Three Game Recaps
Mansfield (4) vs. Big Flats (5) – Kelly Field
Big Flats used a four run third inning to come back and take a 5-4 victory over Mansfield on Sunday morning at Kelly Field. Dylan Shope went the distance for Big Flats picking up the win after allowing four runs on seven hits.
Cameron Jones picked up the loss for Mansfield allowing four hits and five runs in a complete game performance.
John Morrison led Big Flats at the plate with two RBI while Bryant Homerda, Zack Homerda, and Mark Terwilliger all added one RBI.
Pat Dreibelbies led Mansfield at the plate with two RBI while Levi Weiskopff and Brian Strange each had an RBI.
Big Flats moved to 2-0 in divisional play in the Hunter/Jones division while Mansfield concluded play at 2-1 in the division and will have to wait for the remainder of the games to be played to determine their status for tomorrow.
Mansfield 130 000 0 4-7-2
Big Flats 014 000 0 5-4-0
Mansfield (2-1): Cameron Jones (L, 0-1)
2B – Garrett Stager, Aric Root
RBI – Pat Driebelbies-2, Brian Strange, Levi Weiskopff
Big Flats (2-0): Dylan Shope (W, 1-0) and Keith Cummings
RBI – John Morrison-2, Zack Homerda, Bryant Homerda, Mark Terwilliger
Lansing (4) vs. Northern Tioga (3) – Stephens Field
Brian Milliman knocked in the winning run in the bottom of the eighth inning as Lansing knocked off Northern Tioga in extra innings Sunday morning at Stephens Field.
Lansing trailed 3-1 until the sixth inning when they rallied for two runs to send the game to international tie-break rules in the eighth inning.
Trevor Wolf went the distance for Lansing picking up the win after allowing just three hits.
Cameron Wattles picked up the loss for Tioga after allowing the winning run in the eighth inning. Mitch Gruver started the game and threw six innings allowing three runs.
Milliman led Lansing with a 2-for-4 day at the plate with a triple and two RBI.
Quay Ward knocked in two runs for Tioga while Cody Whipple added one RBI.
Lansing improves to 1-1 in the Palmer/Henneman division while Tioga drops to 0-2 in divisional play.
Tioga 003 000 00 3-3-4
Lansing 001 002 01 4-4-1
Lansing (1-1): Trevor Wolf (W, 1-0) and Kevin Mabry
3B – Brian Milliman RBI – Milliman-2
Tioga (0-2): Mitch Gruver, Chris Huyett (7), Cameron Wattles (8) and Quay Ward
RBI – Ward-2, Cody Whipple
Conneaut (8) vs. Hornell (7) – Shaute Field
Conneaut defeated Hornell 8-7 in a marathon 10 inning game that lasted three and a half hours at Shaute Field on Sunday morning.
Andy Carter was the jack of all trades for Conneaut as he ripped a two RBI double in the top of the 10th inning to put his squad up 8-6. Carter then took the mound in the bottom of the 10th and closed the game with three strikeouts after Hornell scored one run.
Carter picked up the win after taking over for Josh Ryan in the eighth inning.
Kyle Binder took the loss for Hornell after relieving DJ Schwartz in the eighth inning.
Carter led the winning squad with his two RBI while Cody Blood added a double.
Nate Broughton recorded two RBI for Hornell while Nick Persutti and Binder each had one RBI.
Conneaut improves to 1-1 in the Heaps/Heaps division while Hornell falls to 0-2.
Conneaut 103 010 001 2 8-6-2
Hornell 010 220 001 1 7-11-6
Conneaut (1-1): Josh Ryan, Andy Carter (8) (W, 1-0) and Steve Smith
2B – Carter, Cody Blood RBI – Carter-2, Blood
Hornell (0-2): DJ Schwartz, Kyle Binder (8) (L, 0-1) and Zane Garza
2B – Binder, Nate Broughton RBI – Broughton-2, Persutti, Binder
Bradford County (5) Corning Gray (3)
Bradford County's Trent Patton outdueled Corning Gray's Josh Mordough to capture the Noylor/Dobson Division and earn a berth in the Stephens Championship bracket with a 5-3 win in the last game of pool play.
Both Patton and Mordough threw complete games with Patton scattering six hits while striking out eight to pick up the win. Mordough gave up nine hits and struck out six.
Bradford broke up a 3-3 game by scoring two runs with two outs in the top of the sixth when Chris Tewksbury doubled in Anthony Villanti and Shane Raupers who had singled earlier in the inning. Tyler Mizerak drove in two runs with a double in the second inning for Corning Grey.
Northern Tioga (8) Greece (4)
Northern Tioga picked up their first win of the tournament and eliminated Greece with a 8-4 win at Joel Stephens Field in a 6 p.m. game.
Cameron Wattles went five innings to pick up the win with Jeff Woodruff coming in during the sixth inning to earn a save. Mitch Gruver had two hits including a double and drove in five runs for Northern Tioga.
Bradford (4) Corning Red (1)
Bradford rallied with four runs over the final four innings to beat Corning Red 4-1 in a afternoon game at Joel Stephens Field in Tioga.
Mike Martin scattered six-hits and struck out 12 in a complete game win. Dan Whipple led Bradford with three hits including a double and RBI.
Sunday Scores
Corning Gray (10) vs. Elmira Heights (1) – Kelly Field
Vestal (12) vs. Bath (2) – Shaute Field
Fabius (12) vs. Conneaut (4) – Stephens Field
Lansing (4) vs. Greece (3) – Shaute Field
Vestal (10) vs. Big Flats (5) – Kelly Field
Corning Red (1) vs. Bradford (4) – Stephens Field
Bradford (5) vs. Corning Gray (3) – Shaute Field
Hornell (2) vs. .Jersey Shore (5) – Kelly Field
Greece (4) vs. Northern Tioga (8) – Stephens Field

Divisional Breakdown
3-way Tie Break
Naylor/Dobson Division Championship Runs Allowed
Bradford County 3-0 Stephens 3
Corning Gray 1-2 Palmer 9
Corning Red 1-2 eliminated 10
Elmira Heights 1-2 eliminated 19
Heaps/Heaps Division
Jersey Shore 3-0 Stephens
xFabius 2-1 Palmer
xConneaut 1-2 eliminated
Hornell 0-3 eliminated
Hunter/Jones Division
Big Flats 2-1 Stephens 16
Mansfield 2-1 Palmer 16
Vestal 2-1 eliminated 17
Bath 0-3 eliminated
Palmer/Henneman Division
xHorseheads 2-1 Stephens
xLansing 2-1 Palmer
N. Tioga 1-2 eliminated
Greece 1-2 eliminated
Stephens:
Big Flats vs Horseheads at Shaute Field at Noon
Jersey Shore vs. winner of Bradford at Kelly Field at Noon
Palmer:
Mansfield vs. Lansing at Shaute at 9:00am
Fabius vs. Corning Gray at Kelly Field at 9:00 am
PALMER CHAMPIONSHIP at STEPHENS FIELD at NOON
STEPHENS CHAMPIONSHIP at 3:00 at SHAUTE