RELEASE DATE: 7/02/07
FOR IMMEDIATE RELEASE: Bradford County 2007 Joel Stephens Champions – Mansfield wins Palmer Championship – Mansfield's Tyler Rumsey Throws no-hitter in Palmer Semi-final for Mansfield
MANSFIELD – Tournament MVP Derick Otis allowed just two hits in four innings to earn the win on the mound and went 3-3 from the plate with a double and RBI to lead Bradford County to a 9-3 win over Horseheads in the Championship game of the 2007 Joel Stephens Invitational Tournament at Mansfield University's Shaute Field Monday afternoon.
Bradford was aggressive on the base paths and manufactured two runs when Otis led off the second with a single and later scored the first of two runs in the inning.
Bradford added two more runs in the third and one more in the fourth and two more in the fifth to take a 7-0 lead.
Horseheads got on the scoreboard with three runs in the keyed by singles from Shaun Merrill and Mike Graham.
Bradford added two more in the top of the sixth to put the game out of reach.
In the Palmer Championship, Mansfield captured the title game with a 12-5 win over Fabius in the title contest behind Tyler Rumsey and Graham Zaparzynski.
Bradford County 022 122 0 9-7-2
Horseheads 000 030 0 3-7-4
Bradford County: Derick Otis (W), Trent Patton (4) and Devon Weed
RBI – Weed, Shane Raupers, Otis, Jared Johnson 2, Mark Cordeiro
Horseheads: Matt Bowman (L), Anthony Baccile (3), Micah Jackson (5), Mike Graham (7) and Shaun Merrill
RBI – Graham, Merrill
Tournament Awards
Joel Stephens MVP -- Derick Otis (Bradford County)
Jeff Hunter Outstanding Pitcher – Tyler Rumsey (Mansfield)
Jeff Jones Outstanding Hitter – Mike Graham (Horseheads)
Cliff Dodson Outstanding Infielder – Nick Cafolla (Horseheads)
Randy Naylor Outstanding Outfielder – Chris Tewksbury (Bradford County)
Stan Heaps Sportsmanship Award – Cody Thomas (Mansfield)
All Tournament Team
Jake Potter (Jersey Shore)
Ryan June (Fabius)
Bill Milliman (Lansing)
Jeremy Blackwell (Corning Gray)
Keith Cummings (Big Flats)
Levi Weiskopff (Mansfield)
Ben Little (Horseheads)
Mark Ciccotti (Horseheads)
Mike Martin (Bradford County)
Jared Johnson (Bradford County)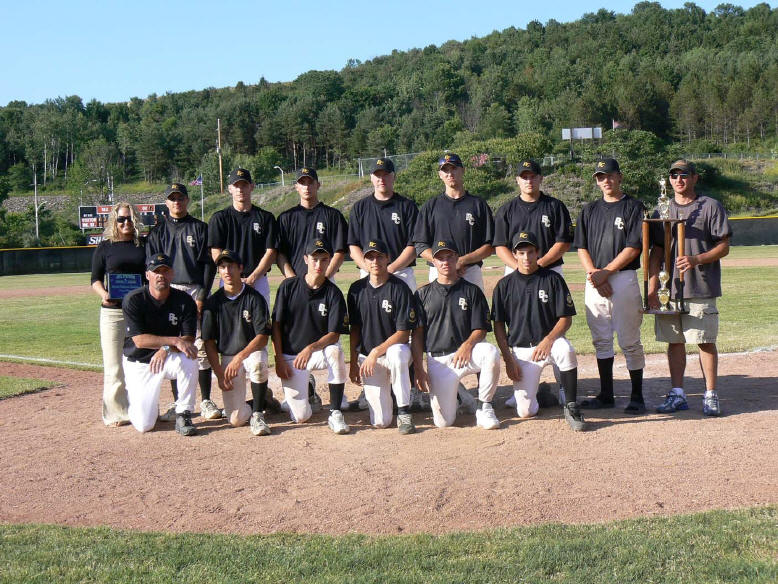 Palmer Championship Semi-Finals
Mansfield 1 Lansing 0
Tyler Rumsey threw a no-hitter and drove in the winning run in the bottom of the seventh inning to propel Mansfield to a berth in the Palmer Championship with a 1-0 win over Lansing at Shaute Field.
Rumsey baffled Lansing all morning with his curve striking out 10 while walking just two.
Levi Weiskopff led off the bottom of the seventh with a triple to left field gap bring up Rumsey who laced the first pitch to right field to driving in the winning run.
Rumsey was 3-3 with the game's only RBI while Weiskopff went 2-2 with a double and triple as the pair combined for five of the six hits in the game. Tyrell Fuller also doubled for Mansfield.
Brent Stull struck out four and walk none in pitching a complete game for Lansing
Lansing 000 000 0 0-0-0
Mansfield 000 000 1 1-6-1
Lansing: Brent Stull (L) and Kevin Mabry
Mansfield : Tyler Rumsey (W) and Tyrell Fuller
2b – Levi Weiskopff, Fuller 3b – Weiskopff
RBI - Rumsey
Fabius 3 Corning Gray 2
Ryan June drove in two runs including the game winner in the bottom of the fifth inning to rally Fabius to a 3-2 win over Corning Gray in a Palmer Semi-final game at Kelly Field.
Corning took a 2-1 lead in the second on RBI singles by Doug Lovell and Alex Caward.
Fabius rallied to tie the score in the bottom of the third before June's game winning hit in the fifth.
Ned Chanatry scattered four hits and struck out six to earn the win. Ben Geist allowed just five hits in taking the loss.
Lane Warner and June each had two hits for Fabius while Mike Speroni had two hits for Corning.
Corning Gray 020 000 0 2-4-1
Fabius 101 010 x 3-5-1
Corning: Ben Geist (L) and Tyler Mizerak
RBI -- Doug Lovell, Alex Caward
Fabius: Ned Chanatry (W) and Jake Newton
RBI – Ryan June 2
Josh Palmer Championship Game
Mansfield 12 Fabius 5
Mansfield exploded for five runs in the top of the first inning and pounded out 13 hits to win the Josh Palmer Championship 12-5 over Fabius.
Tyler Rumsey went 3-4 with a triple and Graham Zaparzynski was 2-3 with two RBI's to lead the Mansfield offense while Brian Strange drove in three runs.
Jake Hartz started on the mound for Mansfield and was relieved in the third by Levi Weiskopff. Tyler Rumsey closed out the game in the seventh.
Jake Newton went 2-2 with a triple and five RBI to lead Fabius.
Mansfield 500 240 1 12-13-0
Fabius 201 000 2 5-5-2
Mansfield: Jake Hartz (W), Levi Weiskopff (4), Tyler Rumsey (7) and Tyrell Fuller
3b – Rumsey, Fuller
RBI – Brian Strange 3, Graeme Zaparzynski 2, Hartz, Weiskopff, Rumsey
Fabius: Ned Chanatry (L), Ryan June (1), Jake Newton (5), Bobby Mason (5) and Matt McPherson
3b – Jake Newton RBI – Jake Newton 5
Joel Stephens Semi-Finals
Bradford County 3 Jersey Shore 2
Reliever Mike Martin struck out five over the last 2 2/3 innings to preserve the win as Bradford County edged Jersey Shore 3-2 to earn a berth in the Stephens Championship game at Kelly Field.
Bradford scored twice in the bottom of the first on double by Rich Villanti and single by Derick Otis and added what proved to be the winning run on a single by Chris Tewskbury in the bottom of the second.
Jersey narrowed the gap to 3-2 on an RBI double by Steve Welsh in the top of the third but could pull no closer.
Jacob Schucker picked up win striking out three before giving way to Martin in the fourth.
Jersey Shore 011 000 0 2-6-2
Bradford County 210 000 x 3-9-0
Jersey Shore: Josh Rodgers (L) and Josh Wrench
2b – Steve Welsh RBI – Welsh, Jake Potter
Bradford County: Jacob Schucker (W), Mike Martin (4) and Devon Weed
2b – Rich Villanti, Shane Raupers
RBI – Villanti, Derick Otis, Chris Tweskbury
Horseheads 9 Big Flats 1
In a Stephens Semi-final game at Shaute Field Horseheads scored five runs in the second inning and cruised to a 9-1 win over Big Flats.
Mark Ciccotti went the distance scattering four hits and striking out six. Mike Graham went 3-4 with a double and two RBI as Horseheads rapped out 12 hits in earning a spot in the Stephens Championship game. J.T. Rich and Ben Little each went 2-3.
Colin Yaniga scored Big Flats lone run on a passed ball.
Horseheads 050 102 1 9-12-0
Big Flats 000 010 0 1-4-1
Horseheads: Mark Ciccotti (w) and Keith Cummings
2b – Tim Harvey, Mike Graham
RBI – Graham 2, Ben Little, Harvey, Shaun Merrill, J.T. Rich, Chad Smith
Big Flats: Mark Terwilliger (L), Ryan Yomans (5) and Keith Cummings