RELEASE DATE: 1/26/10
FOR IMMEDIATE RELEASE: Mansfield women's and men's basketball teams face big games at East Stroudsburg Wednesday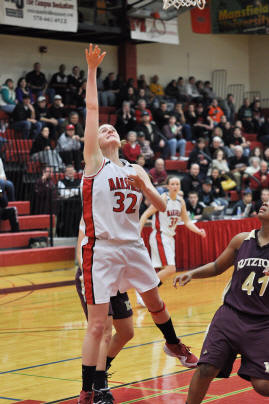 MANSFIELD – The Mansfield University men's and women's basketball teams will face stiff challenges when the Mountaineers travel to East Stroudsburg Wednesday night for a couple of key PSAC East games.
The Mansfield (3-13, 0-4 PSAC East) women will be looking for their first conference victory when they square off with East Stroudsburg (3-14, 1-3 PSAC East) starting at 6 p.m. in Kohler Fieldhouse. The Mountaineer men will try to knock off their second nationally ranked team in a week when they face the No. 22 ranked Warriors at 8 p.m.
The Mountaineer women have shown improvement of late taking Kutztown into double-overtime before falling 86-73 and dropping a 60-49 decision at West Chester last week.
Mansfield ranks 16th in the PSAC in scoring averaging 53.0 points per game and ranks 13th in points allowed giving up an average of 65.4 points per game. East Stroudsburg in 15th in team scoring at 53.5 points per game and 14th in points allowed (66.8 ppg).
The tandem of Mallory Hafer and Mallory Moore are responsible for almost half of the Mountaineers points this season. Hafer ranks 22nd in the PSAC in scoring averaging 11.9 points per game while Moore is 24th in the conference in scoring averaging 11.7 points per contest. Moore also ranked among the PSAC's top rebounders (7th – 8.2 rpg) while Hafer is among the top 3-point shooters (44 3-pointers, 37.0%).
Hafer is also just five 3-pointers from tying former teammate Alicia Espigh for most career 3-pointers (171).
Mansfield has gotten solid performances from guard Nicole Pender who is averaging 9.4 points per outing and Tegan Atallah who scored a career-best 18 points against Kutztown.
East Stroudsburg, which dropped a 76-52 decision to Cheyney in its last outing, is paced by senior DeAnna Rayam who ranks 10th in the PSAC in scoring (14.7 ppg) and 19th in rebounding (6.4 rpg). Mel Villano is averaging 8.8 points per outing.
The men's game could prove to be a high scoring affair with both East Stroudsburg (2nd – 84.4 ppg) and Mansfield (5th –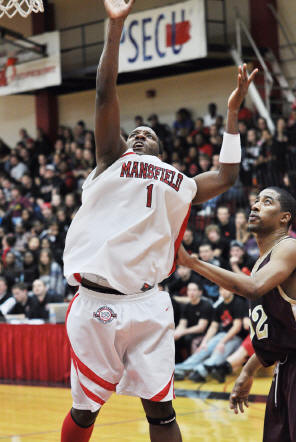 79.6 ppg) ranking among the top five scoring teams in the PSAC. East Stroudsburg ranks 1st in the conference in scoring defense allowing opponents an averaging of 64.4 points per outing while Mansfield ranks 13th giving up an average of 73.2 points per game to their opponents.
Both teams feature well-balanced attacks. Mansfield has four players averaging in double-figures with a fifth averaging more than nine points per game. Junior Yuseff Carr ranks 8th in the conference in scoring averaging 16.4 points per game and is fifth in the conference in rebounding pulling down 8.9 boards per outing. Senior Ryan Callahan averaged more than 26 points per game during last week's contest and ranks 13th in the PSAC with a 15.4 per game average. Sophomore Tony Fannick, who missed four games before returning for limited action in the two games last week, is averaging 12.9 points per game with senior Chris Pender averages 11.2 points per outing. Pender is also one of the top 3-point shooters in the conference (41, 36%).
Junior Derrison Anthony has been impressive spelling Fannick in the starting lineup and is averaging 9.8 points and 6.9 rebounds per game. Senior Justin Simmons has started every game but one this season and averages 7.9 points per outing.
East Stroudsburg (16-1, 3-1 PSAC East), whose only loss of the season came by three points at Kutztown, had a pair of close away games last week beating Bloomsburg 101-96 in double-overtime and outlasting Cheyney 77-73.
The Warriors are perhaps the deepest team in the PSAC this season featuring 11 players who have appeared in at least 16 of 17 games on the year. While senior Andy Heimbach is the only player averaging in double-figures (13.9 ppg), the Warriors have five players averaging more than eight points per contest (Mike Tobin – 9.6; Robby Pines – 9.1; Terrance King – 9.0; Duane Johnson 8.4; and Micah Covert 8.3 ppg).
Mansfield returns home to host Millersville this Saturday.
The PSAC has three teams ranked in the top 25 of the NABC Division II National Poll this week – Kutztown No. 7, IUP No. 9 and East Stroudsburg No. 22