RELEASE DATE: 2/21/09
FOR IMMEDIATE RELEASE: Solomon Isom tops Mansfield boxers Saturday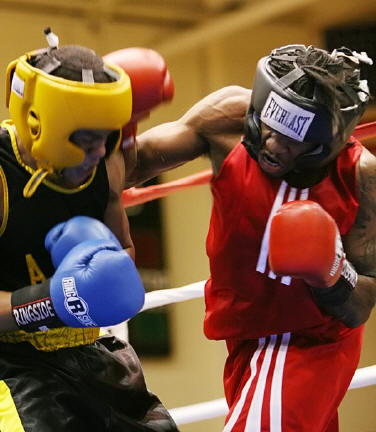 MANSFIELD – Senior Solomon Isom dispatched Derek Puzzoli from the Coast Guard Academy with a thundering left hook to highlight the Mansfield boxing team at the Mansfield Invitational Saturday evening in Decker Gymnasium.
Isom, who is also a member of the Mountaineer football and track teams, was awarded a victory when the referee stopped the fight in the 175 pound bout.
The most anticipated bout of the evening featured Mansfield's Jarrell Hill and Army's John Garcia both considered to be potential medalist in the upcoming Collegiate Boxing Championship with Hill taking a decision in well fought bout.
In other bouts, Mansfield's Mike Cobaugh was outpointed by Lock Haven's Michael Pastore in a close decision at 185. Mansfield's Nathan Eilenfeldt was also outpointed by Sherman Harris of Shippensburg in a 147 pound bout.