RELEASE DATE: 2/0210
FOR IMMEDIATE RELEASE: Mountie men and women face tough test at Bloomsburg on Wednesday
MANSFIELD – The Mansfield University men and women's basketball teams will face a pair to stiff challenges when the Mountaineers travel to the newly renovated Nelson Fieldhouse to face the Bloomsburg University Huskies.
The Spirit Committee of the Mansfield Student Government Association will be sponsoring a free student bus to the games boarding at 3:45 from Laurel Hall. Transportation, game tickets, food and drink are all free for students on the bus along with special prizes.
If you can't make it to the games you can follow all the action on the internet with Shane Wilbur at www.GoMounties.com. Broadcast of the women's game starts at 5:22 p.m. followed by the men's game.
The Mansfield women won their first PSAC East game of the season at East Stroudsburg last week and are hoping for more of the same at Bloomsburg. The Mountaineers have struggled to score for much of the season ranking 16th in the PSAC with a 51.9 points per game average. Mansfield is allowing 63.9 ppg, 10th best in the conference.
The tandem of sophomore forward Mallory Moore and graduate student Mallory Hafer have been the mainstays of the Mountaineers offense all season. Moore currently ranks 22nd in the PSAC in scoring (12.1 ppg) and 6th in rebounding (8.4 rpg). Moore is also among the top free throw shooters in the conference (86.8%). Hafer ranks 29th in the PSAC in scoring, averaging 10.9 points per game. She ranks fourth in the PSAC in 3-point field goals made per game (2.6)
Hafer needs just three more 3-point field goals to tie former teammate Alicia Espigh's school career mark of 172 3-pointers for her career.
Junior point guard Nicole Pender is averaging 9.3 points per game and also ranks among the conference assists leaders (74). Junior Tegan Atallah 5.2 ppg – 5.0 rpg) and freshman Julia Stevenson round out the starting five. Stevenson, who has started the past three games scored 10 points and pulled down nine rebounds in Saturday's loss against Millersville.
Bloomsburg is one of the most improved programs in the PSAC and is currently tied for second in the PSAC East with Kutztown with a 4-2 mark. The Huskies are 12-6 overall and ranks sixth in the PSAC in scoring (67.3 ppg).
Bloomsburg features a bevy of underclass standouts led by freshman Dana Wieller who ranks 5th in the conference in scoring averaging 16.9 points per game. Wieller also leads the PSAC in 3-point field goals this season with 58. Sophomore Kelsey Gallagher averages 14.2 points per outing while freshman Christine Sereta tops the team and ranks among the conference rebound leaders (6.4 rpg).
The Mountaineer men are in thick of the run for the PSAC East title after splitting a pair of one-possession games during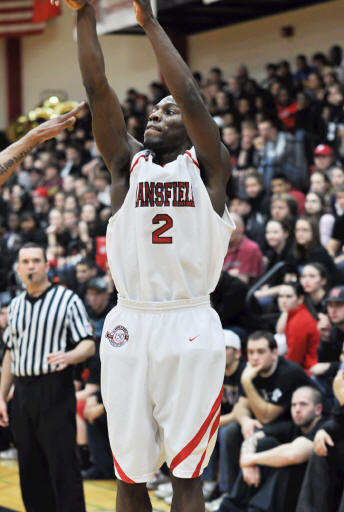 the week. Mansfield dropped a 67-65 overtime heartbreaker at No. 22 East Stroudsburg on Wednesday before holding off upset-minded Millersville 67-64 on Saturday.
Mansfield ranks 6th in the PSAC in scoring averaging 78.2 points per game and are 13th in defense allowing opponents 72.4 points per game. Junior forward Yuseff Carr was named the PSAC East Player of the week for the second time this season after averaging 21.5 points and 10.0 rebounds over the last two games.
The big man ranks eighth in the PSAC in scoring (16.9 ppg) on the season and fifth in rebounding (9.0 rpg). He has eight double-doubles on the season thus far and has scored in double-figures in 21 straight games dating back to last season.
Senior guard Ryan Callahan had his streak of consecutive 20+ scoring game end at three in the win over Millersville Saturday. Callahan scored 10 points in that game, most of them coming the final minutes of play. He now has 972 points in his career including 941 since transferring to Mansfield after spending his freshman season at Wagner.
Mansfield hopes for the return of sophomore Tony Fannick sometime during the week. Fannick has missed six games this season and ranks third on the team in scoring averaging 12.5 points along with 4.6 rebounds per game. Senior Chris Pender is the Mountaineers top outside threat averaging 10.4 points per game with a team-high 43 3-pointers on the season.
Junior Derrison Anthony has done an outstanding job of filling in the starting lineup for Fannick. The 6-1 Anthony is averaging 9.9 points and 6.8 rebounds per game. In his seven starts, all against PSAC East opponents, Anthony is averaging 12.7 points and 7.5 rebounds per game with eight blocked shots.
Senior Justin Simmons rounds out the starting lineup averaging 7.8 points per game.
Bloomsburg has played in more close games than perhaps any other team in the PSAC this season. The Huskies lost three straight games in overtime to West Chester, East Stroudsburg and Millersville before recording a 59-44 win at Shippensburg and an impressive 70-58 win against Kutztown Saturday at Nelson Fieldhouse. Had they won those three overtime games Bloomsburg would be in a first place tie with East Stroudsburg.
Ruben Britt has been the top gun for the Huskies this season averaging 12.8 points per game. The Bloomsburg offense also got a boost with the addition of Adon El over the past five games. El is averaging 12.8 points per game and 6.8 rebounds over that span. Trevon Johnson averages 11.7 points per game while Larry Webster is averaging 9.8 points and a PSAC East best 45 blocked shots.
Mansfield returns home to Decker Gymnasium this Saturday to host Shippensburg in First Citizens National Bank and Haitian Relief Day. Free tickets to the game are available at First Citizens National Bank locations in Blossburg, Mansfield, Mansfield South, Wal-Mart, Wellsboro and Weis Market locations.