RELEASE DATE: 12/09/09
FOR IMMEDIATE RELEASE: Daniel Krause named MU Fall Male Athlete of the Year – Brenae Edwards and Courtney Grunza named MU Co-Female Fall Athletes of the Year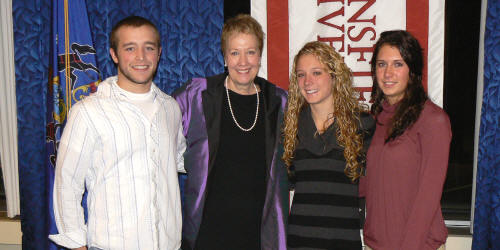 MANSFIELD – Daniel Krause (Pine Grove/Pine Grove) was named the 2009 Mansfield University Fall Athlete of the Year and Brenae Edwards (Hazleton/Hazleton) and Courtney Grunza (Nicholson/Lackawanna Trail) were selected the Fall Female Co-Athletes of the Year. The selections were announced at the 2009 Fall Sports Banquet held recently.
Krause becomes the first sprint football player to earn MU Fall Male Athlete of the Year honors. The sophomore defensive tackle was named to First Team All-CSFL honors recently after recording 23 tackles on the season including 15 solo and 5.5 tackles-for-a-loss.
Edwards produced one of the most productive season's in women's cross country history this fall. The junior finished seventh or better in every race this season. Over the course of seven races, just 16 of 1,187 combined runners finished ahead of her.
She finished sixth at the Pennsylvania State Athletic Conference (PSAC) Championship, earning All-PSAC honors, and followed that up with a sixth place finish at the NCAA Division II Athletic Regional to earn All-Atlantic Region honors.
In her final race of the season, Edwards finished first at the IC4A/ECAC Championship in an all Division I field becoming the first Mountaineer cross country runner to win a ECAC Championship.
Grunza capped off a stellar field hockey career by earning All-PSAC West honors as a defensive back. The senior co-captain also became just the fourth player in school history to be one of 16 players in NCAA Division II to receive First Team All-American recognition this season.
2009 Fall Team Honors
Cross Country Men
Most Valuable Player – Joe Stanek
Most Improved Player – Scott Wilt
Women's
Most Valuable Player – Brenae Edwards
Most Improved Player – Kelly Hollenbeck
Field Hockey Most Valuable Player – Courtney Grunza, Brittany Kostishion
Most Improved Player – Jillian Richards
Sprint Football Most Valuable Player – Dorsea Palmer
Most Improved Player – Justin DiMatteo
Women's Soccer Most Valuable Player – Katie Parsnik
Most Improved Player – Chelsea Bendart