RELEASE DATE: 4/15/10
FOR IMMEDIATE RELEASE: Brenae Edwards and Yuseff Carr named Mansfield University Winter Female and Male Athletes of the Year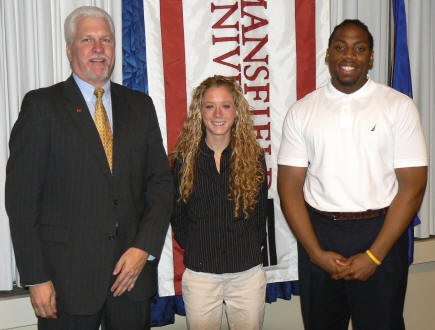 MANSFIELD – Brenae Edwards (Hazleton/Hazleton) and Yuseff Carr (New York City,NY/East NY Transit Tech) have been named the Mansfield University 2009-10 Winter Athletes of the Year for their outstanding accomplishments during the recently completed winter sports season.
The announcement was made at the Winter Sports Banquet held recently.
Edwards, who was named Co-Female Fall Athlete of the Year earlier, became the first Mansfield University female runner to qualify for the NCAA Division II National Indoor Championship were she earned All-American honors with a third-place finish in the 5000 meters.
Edwards, who broke the school records in the 3000 and 5000 meters during the course of the indoor season, shattered the school 5000 record by 22 seconds at the PSAC Indoor Championship to earn an automatic qualifying berth for the NCAA National Championship.
Running against the top fifteen 5000 meter runners in the country at the NCAA Championship in Albuquerque, NM, Edwards used a strong kick over the final 300 meters to break away from the pack and finish third.
Carr helped lead the Mountaineers to the PSAC East Division Championship and PSAC playoff's by ranking among the top scorers and rebounders in the conference.
The 6-6, 284-pound big man was one of the most feared players in the PSAC this season, earning pre-season All-PSAC East honors in voting among the division head coaches. Carr justified that sign of respect by ranking 6th in the conference in scoring averaging 16.9 points per game.
The junior, who surpassed the 1,000 career point milestone in 2009-10, finished 7th in the PSAC in rebounding while scoring in double-figures in 26 games during the season. Carr, who was twice named the PSAC East Player of the Week, also ranked among the elite in the conference in blocked shots and field goal percentage.
For his exceptional performance during the season, Carr was named to 1st Team All-PSAC East honors and became one of just 10 players in school history to earn a spot on the prestigious National Association of Basketball Coaches (NABC) All-Atlantic Region team.
In addition to naming the Winter Athletes of the Year, each athletic program also named their Most Improved Player (MIP) and Most Valuable Player (MVP) of the 2009-10 season.
Men's Basketball MIP -- Justin Simmons MVP – Yuseff Carr
Women's Basketball MIP – Julia Stevenson MVP – Mallory Moore
Men's indoor Track MIP -- Bud Plaszenski MVP – Mike Gray
Women's Indoor Track MIP -- Katie Foster MVP – Brenae Edwards
Women's Swimming MIP -- Elizabeth Stanton MVP -- Taylor Zilnek
Cheerleading MVP – Marissa Bertram