RELEASE DATE: 6/28/07
FOR IMMEDIATE RELEASE: Tagliaferri Named Head Basketball Coach at Penn College
WILLIAMSPORT – Former Mountaineer standout Alison Tagliaferri has been named the head coach of the women's basketball program at Penn College in Williamsport as announced by the school on Wednesday.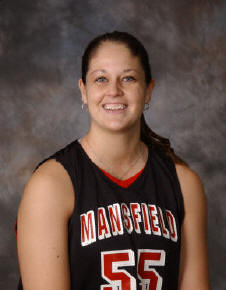 Tagliaferri, who still holds multiple records at Mansfield, spent the last season playing professionally in Portugal for Clube Do Povo De Esgueira of the Portuguese Basketball Federation where she led her team averaging 16 points and nearly 10 rebounds per game. She was selected to represent her squad in the leagues all-star game as well.
Following the season, Tagliaferri flew back home to pursue other opportunities, including the possibilities of coaching somewhere. She got her chance when Penn College head coach Ron Kodish resigned.
"I am definitely excited and also kind of nervous because it's my first coaching job," said Tagliaferri. "They have had success in the past and hopefully we can continue that."
Tagliaferri holds the all-time scoring record at Mansfield with 1795 career points while also holding the single season and career field goal percentage marks. She was an integral part of the Mountaineer squad that qualified for the first PSAC playoff appearance in school history and she was selected to four straight All-PSAC East first team honors while being named the Mansfield University Athlete of the Year four times during her career.
Penn College finished the 2006-07 season as the Pennsylvania State University Athletic Conference (PSU-AC) champions while advancing to its first PSU-AC final four appearance.
Tagliaferri is not scheduled to face off against Mansfield during the 2007-08 season.