RELEASE DATE: 5/15/10
FOR IMMEDIATE RELEASE: Clarissa Cummings, Brenae Edwards and Mike Gray earn All-PSAC honors in final day of PSAC Outdoor Track & Field Championship -- Freshman Alexas Tsiknas breaks school pole vault record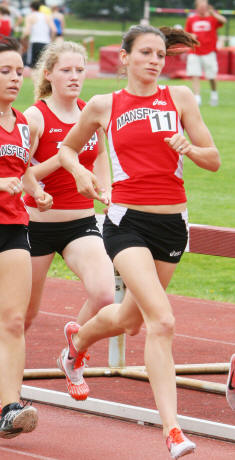 WEST CHESTER – Clarissa Cummings, Brenae Edwards and Mike Gray each earned All-PSAC honors with third place finishes in the final day of the Pennsylvania State Athletic Conference (PSAC) Men's and Women's Outdoor Track & Field Championship held in West Chester Saturday.
Cummings was third in the steeplechase with a time of 11:07.02 picking up six team points. She currently ranks 16th fastest in the event in the nation and is on the bubble to make the field at the NCAA National Championship.
Edwards, who earned All-PSAC with a third-place finish in the 5000 yesterday, came back and although running in the slow heat, took third overall in the 1500 with a school record time of 9:56.89 to earn six team points.
Edwards will be advancing to the NCAA National Championship on the strength of her automatic qualifying time in the 5,000 on Thursday.
Gray, the defending PSAC discus champion, fell just short at West Chester with a 152-11 effort good for third-place and earn All-PSAC honors for the third-straight year. Gray is currently 14th on the National List after yesterday's competition and will await the results of other conference championships to see if he will advance to the national championship.
Freshman Alexa Tsiknas broke a school-record and just missed earning All-PSAC honors with a fourth place finish in the pole vault with a school-record 11-04.50 effort.
Also scoring team points were Nathan MacNabb with a fifth place finish in the 1500 (3:56.52), and senior Victor Garcia with a seventh place effort in the 800 (1:57.40).
Ryan Detwiller tied for seventh in the high jump with a 6-02.75 effort and the women's 4x400 relay team of Abbie Waltz, Bethany Coons, Erica Ferguson and Alexa Tisknas finished eighth overall with a time of 4:06.00.
The women scored their second-highest amount of points in school history with 24 to finish 9th overall beating Lock Haven, Clarion, Edinboro, West Chester and Bloomsburg.
The men finished 11th with 17.5 points beating Bloomsburg and Cheyney.