RELEASE DATE: 5/14/10
FOR IMMEDIATE RELEASE: Brenae Edwards earns All-PSAC with third-place finish in 5000 – Mike Gray fifth in discus Friday at PSAC Track & Field Championship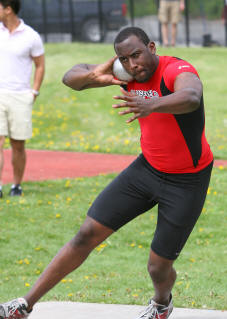 WEST CHESTER – Brenae Edwards earned All-PSAC honors with a third place finish in the 5000 meters and Mike Gray finished fifth in the shot put to highlight Mansfield's efforts Friday at the PSAC Track and Field Championship at West Chester University.
Edwards third-place time of 16:59.70 was an automatic qualifying time for the upcoming NCAA National Championship. Edwards finished behind Shippensburg's Neely Spence (16:54.38) and Slippery Rock's Jen Harpp (16:56.83) scoring six team points for the Mountaineers.
Gray was fifth overall in the shot put with a heave of 50-04.00 trailing East Stroudsburg's Paul Wagner's winning toss of 51-09.25. Gray also finished 13th in the hammer throw (153-06).
Senior Victor Garcia was one of eight qualifiers for tomorrow's 800 meters finial posting a time of 1:53.91 the sixth fastest time during today's qualifying race.
In other results, Bethany Coons missed qualifying for tomorrow's championship heat of the 800 with a 12th place finish. Abbie Waltz missed tomorrow's finals in the 400 meter hurdles with a 14th place finish of 1:07.76.
Erin Schlitzer ws 14th in the shot put (35-07.75) and Justen Johnson 14th in the 400 (49.19) with Chukwumereije Otuonye finishing 17th (49>75). Otuonye was also 13th in the 200 (22.79).
Senior Erica Ferguson was 16th in the 400 (59.05) and 21st in the long jump (15-07.00). Bud Plaszenski was 14th in the 5000 (15:57.95) and Mason Teribury 19th in the 400 hurdles (58.28). Joe Stanek finished 24th in the 10,000 meters Friday night in his final collegiate race.
The Mansfield women rank 9th overall with six points while the Mountaineer men are tenth in team scoring with four points.
The competition continues all day on Saturday.