RELEASE DATE: 3/27/10
FOR IMMEDIATE RELEASE: Mike Gray triple winner at Susquehanna Universityís Jim Taylor Invitational
Jim Taylor Invitational Results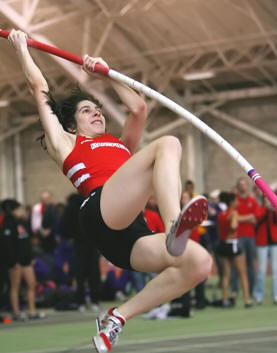 SELINSGROVE Ė Mike Gray won the discus, hammer and shot put to lead an impressive early season performance by the Mansfield University menís and womenís track & field teams at the Jim Taylor Invitational at Susquehanna University Saturday.
Gray crushed the competition in all three events winning the discus with a toss of 158-00, 36 feet better than the next closest competitor. He also won the hammer throw (153-09) by more than 29 feet and the shot put (48-10.25) by more than three feet.
Freshman Alexa Tsiknas was a dual winner for the women taking first in the 200 meters with a winning time of 27.12 while also winning the pole vault with a mark of 10-10.
Also picking up first place showings were Erica Ferguson in the 400 meters (1:01.70), Abbie Waltz in the 400 hurdles (1:09.48) and Erin Schlitzer in the shot put (37-04.50). Becky Kratz and Elley Trubic were second in the 1500 meters (5:09.55) and javelin (108-04) respectively.
On the menís side senior Victor Garcia won the 800 meters with a time of 1:57.92 while Justen Johnson and Mason Teribury were second in the 400 meters (50.34) and 400 hurdles (57.93) respectively. Ryan Detwiller also was second in the high jump (6-0).
###