RELEASE DATE: 4/03/10
FOR IMMEDIATE RELEASE: Gray finishes sixth in the discus at Colonial Relays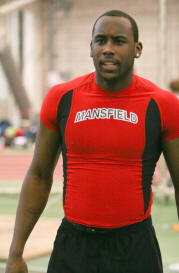 WILLIAMSBURG, VA – Mansfield University's Mike Gray finished sixth overall in the discus Saturday afternoon in the second and final day of the Colonial Relays at the College of William and Mary.
Gray, who placed in the hammer throw with a school record on Friday, had a 147-6 effort to finish sixth in the mainly Division I event.
Also having strong performances Saturday were Alexa Tsiknas who tied for ninth in the pole vault with a 10-6 effort and Ryan Detwiller who tied for 18th in the high jump at 6-2.