RELEASE DATE: 4/10/10
FOR IMMEDIATE RELEASE: Brenae Edwards hits provisional qualifying time in 5000 at Bucknell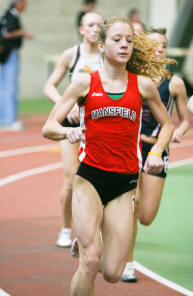 LEWISBURG – Brenae Edwards hit a solid NCAA Division II qualifying time in the 5000 while Mike Gray and Bud Plaszenski both had strong showings at Bucknell Outdoor Classic Friday night.
Edwards finished third overall in a strong 5000 meter field with a time of 17:04.72 in her first 5000 meter race since earning indoor All-American honors at the same distance last month.
Gray finished sixth overall and was the top non-Division I finisher in the discus with a toss of 150-09. Plaszenski qualified for the PSAC Championship in the steeplechase with a time of 9:30.9.
###