RELEASE DATE: 4/17/10
FOR IMMEDIATE RELEASE: Gray wins twice at Brockport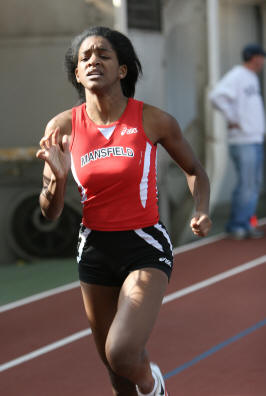 BROCKPORT,NY – Mike Gray won the won the shot put and discus and finished second in the hammer throw to highlight a day of top finishes by the Mansfield University men's and women's track & field teams at the Brockport Invitational on Saturday.
Gray won the shot with a heave of 51-05.50, surpassing the next best thrower by almost three feet, and captured the discus with a toss of 153-00. He was second in the hammer throw with a 162-03 effort. Other top performers for the Mansfield men, who finished sixth with 57 points in the eight team meet, include Nathan MacNabb's second place finish in the 1500 meters (4:00.68) with Bud Plaszenski finishing fourth (4:01.89) and Sean Vollenweider seventh (4:10.60) in the same event.
Otuonye Chukwumereije placed third in the 400 meters (51.40) with Brandow Marlow finishing fourth (52.10). Dane Moist was sixth in the 200 meters (23.50).
On the women's side, Erica Ferguson won the 200 meters with a time of 27.74 and finished second in the 400 meters with a time of 62.56. Clarissa Cummings won the 1500 meters with a time of 4:53.78 with Brenae Edwards finishing fourth (5:06.63) and Kait Chegwidden eighth (5:23.16).
Abbie Waltz was second in the 400 hurdles (68.92) and Erin Schlitzer fifth in the shot put (34-08.50). Alicia Edkin scored a team point with an eight place finish in the hammer throw (117-00).
In other field events, Alexa Tsiknas won the pole vault with a 10-10.00 mark and Nicole McCarthy won the javelin with a toss of 101-09. Elley Trubic finished third in the event (96-09) with Samantha Kostishak placing fourth (94-04) and Sarah Bull fifth (90-07).
The Mansfield women placed fourth in team scoring with 88 points.
###