RELEASE DATE: 1/23/10
FOR IMMEDIATE RELEASE: Gray and Edkin break school record in weight throw at Susquehanna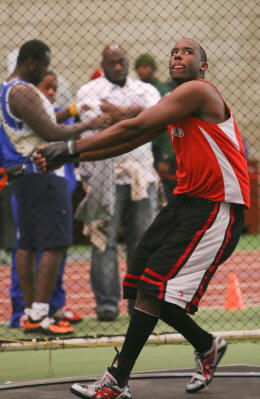 SELINSGROVE – Mike Gray took first in the shot put with an NCAA provisional qualifying mark and broke his own school record in winning the weight throw at the Susquehanna Invitational Saturday afternoon.
"It may have been the best overall day in school history for our throwers," said head coach Mike Rohl. "The were outstanding in every event they entered."
Gray broke the record he set last season of 55' 8.50 with a toss of 56' 6.3 in winning the 35 pound weight throw. He followed that with a heave of 53' 2.5 to provisionally qualify for the NCAA Indoor Championship.
Alicia Edkin also broke her school record in the women's weight throw with a toss of 39' 3.04 bettering her old school mark of 38' 6.00 set last year. Also finishing third in the shot put was Erin Schlitzer with a 34' 6.78 effort.
###