RELEASE DATE: 2/25/10
FOR IMMEDIATE RELEASE: Mansfield's Mike Gray out to defend his shot put title at PSAC Indoor track and field championship – Mounties qualify school record 24 athletes for championship meet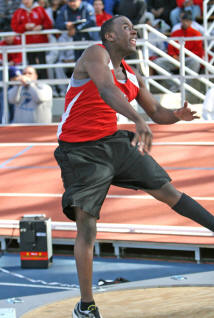 MANSFIELD – Mansfield University senior Mike Gray will be out to defend his shot put title this Saturday and Sunday at the PSAC Indoor Track & Field Championship at Edinboro University Mike S. Zafirovski Sports & Recreation Dome.
Live Results will be available at www.tumeytiming.com
Gray will be one of a school record 24 Mountaineer that earned qualifying marks during the season to advance to the championship meet.
Gray, who will also compete in the weight throw, has the longest throw in the conference this season with a 54-10.25 heave at the CTC Championship two weeks ago. The effort is almost five feet better than then next longest put in the conference this year by Paul Wagner of East Stroudsburg (49-11.00).
Gray has the third longest mark in the PSAC in the weight throw this season at 56-7.5 feet.
Other top hopefuls for the Mansfield men include Ryan Detwiller who has the fourth best jump in the conference coming into the competition at 6-6.25, Victor Garcia who has the sixth best time in the 800 (1:56.32) and Bud Plaszenski and Nathan MacNabb who have posted the ninth (4:1983) and 11th (4:20.66) times in the mile respectively.
On the women's side Mansfield's best hopes for top finishes lie with Brenae Edwards and Clarissa Cummings who have the fifth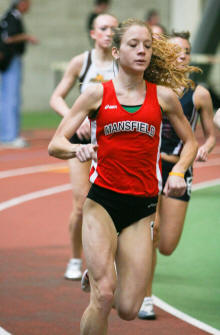 (5:08.40) and 6th (5:09.66) times in the mile in the conference this year. Edwards also ran the fourth fastest time in the 3000 (10:12.93) and third best time in the 5000 (17:12.73).
Freshman Alexa Tsiknas has the fifth best pole vault with a school record 10-11.75 posted at the CTC Championship two weeks ago. Senior Katie Foster has the PSAC's ninth best mark (35-5.75) entering the championship.
Mansfield PSAC Qualifiers
Casey Aylesworth- 4 x 800m relay,. 4 x 400m relay
Ryan Detwiler- High Jump
Victor Garcia- Distance Medley Relay, 800, 4 x 400m relay
Mike Gray- Weight Throw, Shot Put
Justen Johnson- 60m Dash, Distance Medley Relay, Triple Jump, 4 x 400m relay
Nate MacNabb- Mile, 3000m, Distance Medley Relay, 4 x 800
Brandon Marlow- 4 x 400, 4 x 800 Alternates (both relays)
Dane Moist- 200m
Chuk Otuonye- 400m, 4 x 400m relay, 4 x 800m relay Alternate
Bud Plaszenski- Mile, 3000m, Distance Medley Relay, 4 x 800 relay
Joe Stanek- 5000m, 3000m
Mason Teribury- 4 x 400, 4 x 800 Alternates (both relays)
Kevin Cusworth- 4 x 800m relay Alternate
Sean Vollenweider- 5000m, Mile, 4 x 800m relay Alternate
Brenae Edwards- 3000m, 5000m
Clarissa Cummings- Mile, 3000m, Distance Medley Relay
Bethany Coons- Distance Medley Relay, 4 x 800 relay, 4 x 400m relay
Kelsie Foster- 4 x 800 relay, 4 x 400m relay Alternate
Katie Foster- Pentathlon, Triple Jump
Erica Ferguson- 60m dash, Long Jump, Distance Medley Relay, 4 x 400m relay
Erin Schlitzer- Shot Put
Becky Kratz- Mile, Distance Medley Relay, 4 x 800 relay
Abbie Waltz- 60 m dash, 4 x 400m relay
Alexa Tsiknas- Pole Vault, 200m, 4 x 800 relay, 4 x 400m relay