RELEASE DATE: 2/28/10
FOR IMMEDIATE RELEASE: Mike Gray comes up just short in defense of PSAC shot put title -- Mansfield men and women both post top ten finishes at PSAC Indoor Track & Field Championship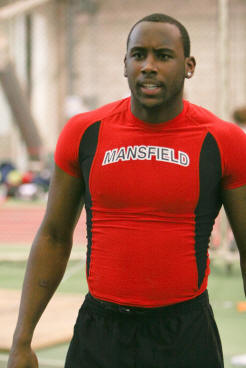 EDINBORO -- Mike Gray came up short of defending his shot put title Sunday at the PSAC Indoor Track & Field Championship held a Edinboro University but the senior still earn All-PSAC honors with a second place toss of 51-06.25.
Gray, who finished fourth in the weight throw on Saturday, helped both the Mansfield University men's and women's team cap off one of their most successful efforts at the conference championship in school history.
The Mountaineer women, who scored just a single point in last year's championship, finished eighth overall with 21 points. Junior Brenae Edwards played a large part in the Mountaineers success earning All-PSAC honors and setting a school record and qualifying the NCAA Division II National Championship on Saturday.
Edwards had another strong performance on Sunday just missing All-Conference honors in the 3000 meters with a fourth place time of 10:02.02. Senior Clarissa Cummings picked up three team points on Sunday with a sixth place finish in the mile run (5:12.94).
In addition to Gray's second place showing on Sunday, Bud Plaszenski took sixth overall in the mile with a time of 4:15.84. The men's 4x400 relay of Victor Garcia, Justen Johnson, Chukwumereije Otuonye and Casey Aylesworth earned team points with an eighth place finish (3:23.17).