RELEASE DATE: 3/15/10
FOR IMMEDIATE RELEASE: Mansfield men's and women's indoor track and field finishes in top 10 of region in final poll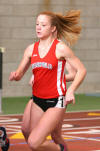 MANSFIELD – The Mansfield University men's and women's indoor track and field team each finished in the top 10 of the final USTFCCCA NCAA Division II Atlantic Region poll.
The Mountaineer men ranked ninth in the final poll with 89.36 points while the women ranked 10th with 75.69 points. The final poll was conducted prior to this past weekend's NCAA Division II Indoor National Championship at which Mansfield's Brenae Edwards took third in the 5,000 meters.
Mansfield is one of eight schools in the region that had both its men's and women's teams ranked in the final poll.
USTFCCA Division II Atlantic Region Poll USTFCCA Division II Atlantic Region Poll
Men Women
| | | | | | | |
| --- | --- | --- | --- | --- | --- | --- |
| 1. | Saint Augustine's | 414.64 | | 1. | Shippensburg | 391.65 |
| 2. | Lock Haven | 285.45 | | 2. | Slippery Rock | 312.38 |
| 3. | Shippensburg | 272.84 | | 3. | Saint Augustine's | 273.27 |
| 4. | East Stroudsburg | 254.70 | | 4. | Johnson C. Smith | 228.26 |
| 5. | Indiana (PA) | 199.39 | | 5. | Kutztown | 206.26 |
| 6. | Slippery Rock | 132.95 | | 6. | East Stroudsburg | 167.45 |
| 7. | Bowie State | 128.24 | | 7. | Indiana (PA) | 161.15 |
| 8. | Kutztown | 115.95 | | 8. | California (PA) | 92.00 |
| 9. | Mansfield | 89.36 | | 9. | Bowie State | 83.05 |
| 10. | West Chester | 84.02 | | 10. | Mansfield | 75.69 |