RELEASE DATE: 3/12/10
FOR IMMEDIATE RELEASE: Brenae Edwards attempts to become Mansfield's first women's NCAA Division II Indoor Track All-American Saturday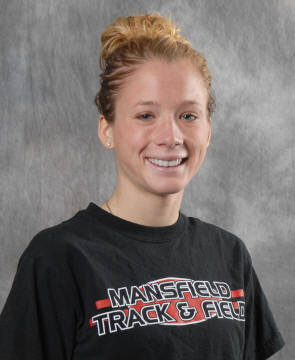 MANSFIELD -- Mansfield University standout Brenae Edwards (Hazleton/Hazleton) will attempt to become the Mountaineers first women's Indoor All-American when she runs in the 5000 meters at the NCAA Division II Indoor Track & Field Championship in Albuquerque, NM Saturday evening.
The race will be streamed live at www.GoMounties.com and is set to start at 7:30 p.m. EDT.
Edwards, who has been in New Mexico for a week along with coaches Steph Cadwell and Mike Rohl in order to acclimate herself to the 5,312 feet altitude, became the first Mountaineer women's runner to earn a trip to the Indoor National Championship when she finished second at the PSAC Championship with a school record time of 16:48.48.
Her time is the fifth fastest among the 15 runners who qualified for the NCAA Championship.
"Brenae worked hard to get here," said Rohl. "She's also worked hard since we've been in New Mexico and I'm confident she's going to be ready when the gun goes off."
Edwards, who missed a berth in the NCAA Division II National Cross Country Championship in the fall, is having an exceptional year and will face a tough field in her quest for All-American honors awarded to the top eight finishers in the championship race.
Neely Spence of Shippensburg University, who beat Edwards at the PSAC Championship, is the top ranked runner in the race.
###