RELEASE DATE: 2/20/10
FOR IMMEDIATE RELEASE: Justen Johnson sets beaks school records in 60 and 300 meters at Cornell – Casey Aylesworth set new mark in 600

complete results
I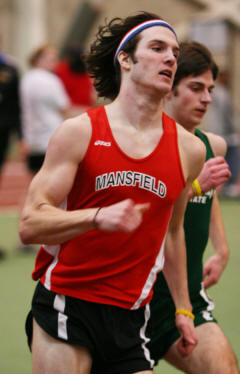 THACA,NY – Justen Johnson broke the school record in the 60 and 300 meters and Casey Aylesworth broke the school mark in the 600 meters at the Marc Deneault Invitational at Cornell University Saturday.
Johnson broke Josh Bucior's time of 7.18 in the 60 with a mark of 7.11 to qualify for next week's PSAC Championship. He beat his own record set earlier this year in the 300 by more .48 of a second with a time of 36.08.
Aylesworth broke the 600 record with a time of 1:24.16.
Other highlights of the meet including PSAC qualifying time for freshman Becky Kratz in the mile (5:21.11) while Chukwumereije Otuonye qualified in the 400 meters (51.31) and Dane Moist in the 200 (23.48). Sean Vollenweider also qualified in the mile (4:40.69).
Nate MacNabb was the first collegiate finisher and second overall in the 1000 meters with a time of 2:30.65.
Mansfield will compete with the other 16 PSAC members at the conference championship at Edinboro next weekend.