RELEASE DATE: 2/27/10
FOR IMMEDIATE RELEASE: Mansfield off to great start at PSAC Indoor Track Championship – Men's DMR team finishes first – Brenae Edwards qualifies for NCAA Division II Championship with second-place finish in 5000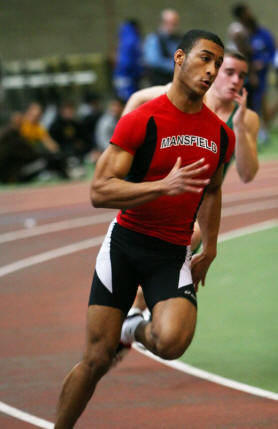 EDINBORO – It was a great day to be a Mountaineer Saturday at the first day of the 2009-2010 PSAC Indoor Track & Field Championship as the men's Distance Medley Relay team took first place and Brenae Edwards became the first Mansfield female runner in school history to qualify for the NCAA Division II National Championship with a second-place finish in the 5000 meters.
The Mansfield men were in sixth place (19 points) in the team standings after the first six events and the Mountaineer women were in seventh place (13 points).
The DMR team of Nathan MacNabb, Justen Johnson, Victor Garcia and Bud Plaszenski finished with a winning time of 10:15.65 a second better than the next runner up.
Edwards, who just missed qualifying for the National Cross Country Championship by one place this year, become the first Mountaineer female runner to earn an automatic qualifying time to the Indoor National Championship with a school record time of 16:48.48.
Mansfield women's DMR team of Becky Kratz, Erica Ferguson, Bethany Coons, and Clarissa Cummings also earned team points with a 5th place finish (12:47.24).
Mike Gray took fourth place in the weight throw with a toss of 56-09.50 to earn five team points and Joe Stanek was fifth in the 5000 (15:05.48) earning four team points.
Senior Katie Foster set a school record in the pentathlon with 3063 points good for eighth place overall and one team point.
The competition resumes Sunday.