RELEASE DATE: 2/13/10
FOR IMMEDIATE RELEASE: Mansfield menís and womenís indoor track teams capture CTC titles Ė Mike Gray, Alexa Tsiknas and Victor set school records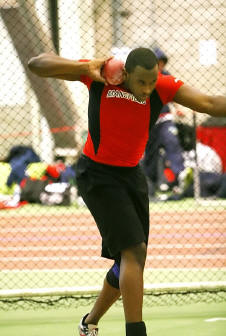 MIDDLETOWN, CT Ė Mike Gray, Alexa Tsiknas and Victor Garcia set school records while Clarissa Cummings, Brenae Edwards, Katie Foster, Bud Plaszenski, and Erin Schlitzer each had first place finishes to lead the Mansfield menís and womenís indoor track & field teams to the team championship at the College Track Championship at Wesleyan College Saturday.
The Mansfield women won the team competition with 134 points in the 21 team field, 26 points ahead of runner-up Rowan College. The Mountaineer men won the menís competition with 104.4 points ahead of second-place New Jersey Institute of Technology.
Gray, Tsiknas and Garcia all broke their own school marks in the shot put, pole vault and 500 meters respectively. Gray finished second overall in the shot with a record toss of 54-10.25, currently the 12th longest throw in NCAA Division II this season. Gray also finished second in the weight-throw with a 52-08.00 effort just .25 of an inch shot of the winner.
Tsiknas finished second in the pole vault breaking her own school record of 10-10.00 set earlier this year with a 10-11.75 mark. She was also third in the 800 meters with a time of 2:27.53.
Garcia also broke his own school record in the 500 finishing first overall with a time of 1:05.55 and was second in the 800 at 2:01.23.
The Mansfield men swept the top three places in the mile with Plaszenski finishing first with a winning time of 4:22.39 followed by Nate MacN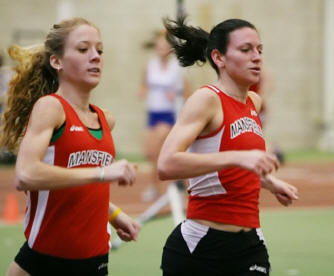 abb (4:23.71) and Joe Stanek (4:24.91). MacNabb was second in the 3000 (8:48.30) with Stanek finishing third (8:49.48) and Plaszenski fifth (8:58.90).
Brenae Edwards and Clarissa Cummings battled each other in the mile and 3000 meters with Edwards edging Cummings to win the mile with a time of 5:28.36 to Cummings 5:28.37 and Cummings winning the 3000 in 10:45.90 with Edwards finishing second at 10:46.02.
Erin Schlitzer won the shot put with a 38-05.50 mark while Katie Foster captured the pentathlon title with 2738 points.
Foster also finished second in the triple jump (34-07.75) while Erica Ferguson and Abbie Waltz finished third in the 400 (1:01.31) and 500 (1:23.73) meters respectively. Ferguson was also fifth in the long jump (15-04.00).
It marks the second time in three years Mansfield has captured both the menís and womenís CTC titles.
###