RELEASE DATE: 12/05/09
FOR IMMEDIATE RELEASE: Four school records fall in opening meet of 2009-10 indoor track and field season at Cornell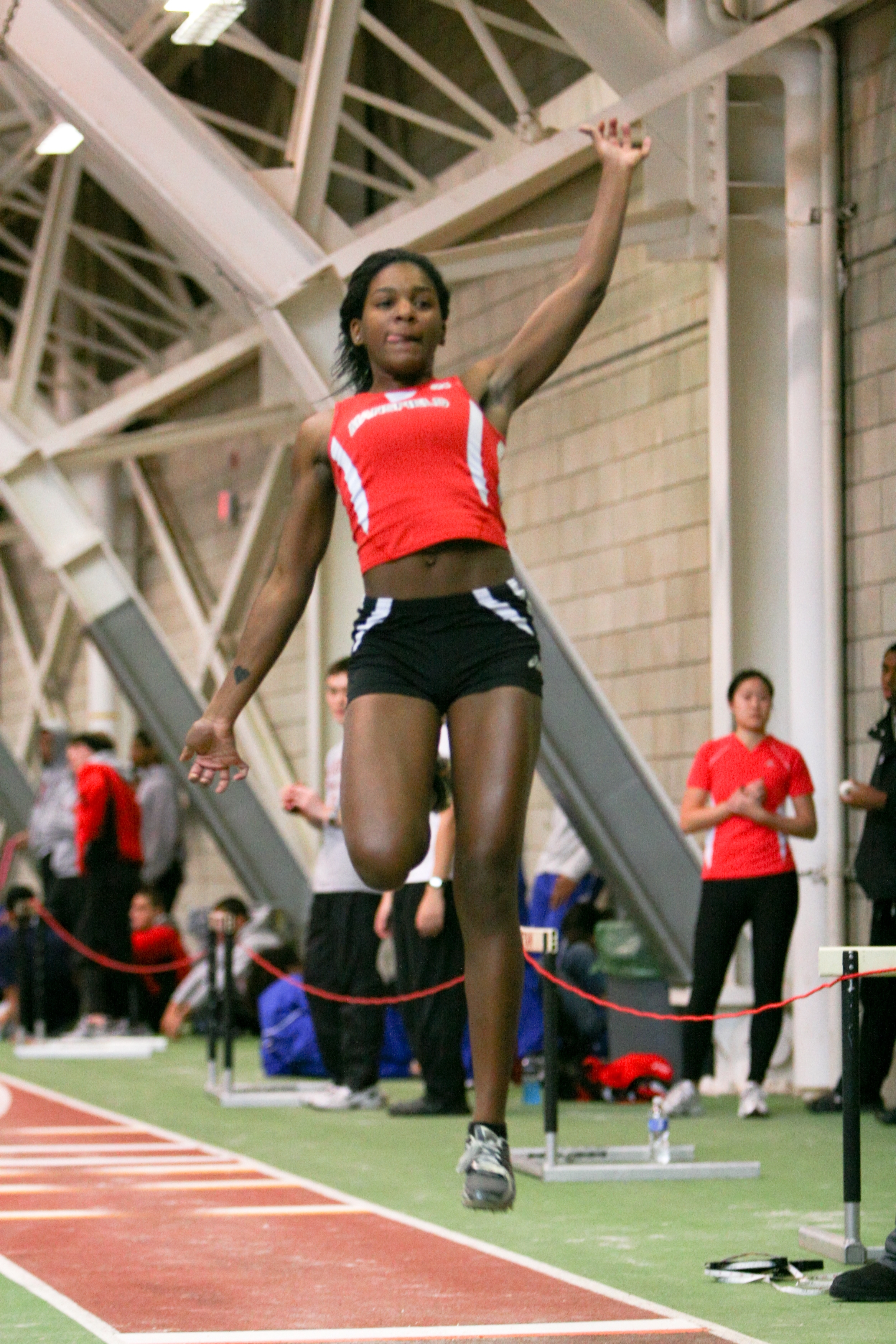 ITHACA,NY Ė The Mansfield University menís and womenís indoor track & field teams got the 2009-10 season off to an impressive start setting four school records and producing 12 conference qualifiers at the Cornell Relays Saturday.
Senior Mike Gray (Elmira,NY/Horseheads), sophomores Alicia Edkin (Hughesville/Hughesville) and Justen Johnson (Pocono Pines/Pocono Mountain) along with freshman Alexa Tsiknas (Towanda/Troy) broke the school records in the menís weight throw, womenís weight throw, 300 meters and womenís pole vault respectively.
Gray broke his own school mark, set last year, in the weight throw by almost five inches with a toss of 55-08.50 and also took third in the shot put with a PSAC qualifying heave of 50-02.75.
Johnson broke Kyle Kitnerís 2001 record of 36.7 in the 300 with a time of 36.62 and also finished 14th in the long jump (20-11.75) and triple jump (41-07.25).
Edkin broke Karen Krouseís weight throw record set in 2000 by almost two feet with her throw of 38-06 while Tsiknas shattered Meghan Kerrís 2005 pole vault record (9-06) with a 10-4 effort. She also finished 13th in the 300 meters with a time of 43.88.
Achieving individual qualifying standards for the PSAC Championship were Gray in the shot put and weight throw, Tsiknas in the pole vault, Erica Ferguson (Yeadon/West Catholic) in the long jump (16-07.75), Ryan Detwiller (Liberty/Liberty)in the high jump, Katie Foster (Elmira,NY/Southside) in the triple jump (34-03).
Also earning PSAC qualifying spots were the womenís DMR and 4x800 relay teams and the menís 4x400 relay team. The womenís DMR team of Clarissa Cummings (Mansfield/Mansfield), Ferguson, Bethany Coons (Pine City,NY/Southside) and Brenae Edwards (Hazleton/Hazleton) finished second overall with a time of 12:25.37 while the 4x800 team of Edwards, Cummings, Coons and Becky Kratz (Lederach/Souderton) was sixth (10:12.72).
The menís 4x400 team of team of Victor Garcia (Chambersburg), Casey Aylesworth (Wysox/Northeast Bradford), Mason Teribury (Gillett/Troy), and Johnson qualified for the conference championship with a time of 3:30.89.
Other strong showings including Garciaís 6th place finish in the 500 meters (1:06.42), Alyson Daliaís (Towanda/Troy) 10th place in the shot put (32-11) and the menís 6th place finish in the DMR (Nathan McNabb, Brandon Marlow, Kevin Cusworth , Orion Bernard Ė 10:59.49).
Mansfield will travel to the Golden Flash Invitational in Kent State next weekend.