RELEASE DATE: 1/30/10
FOR IMMEDIATE RELEASE: Mike Gray wins shot put at Bucknell – Brenae Edwards takes fifth in 5000 at Penn State – Alexa Tsiknas breaks pole vault record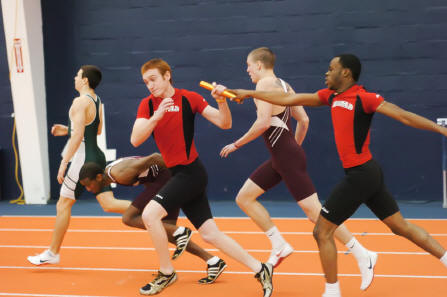 MANSFIELD – Mike Gray won the shot put at the Bison Open while Brenae Edwards took fifth in an all Division I field at the Penn State National Invitational Friday evening.
Gray won the shot with a heave of 53-00.25 while freshman Alexa Tsiknas broke her own school record in the women's pole vault with a 10-10.00 effort finishing in second place.
In Saturday's action at Bucknell Bud Plaszenski finished first in the 1000 with a time of 2:34.58 edging out teammate Nate MacNabb who finished second at 2:35.11.
Katie Foster qualified for the upcoming PSAC Championship in the 60 hurdles with a time of 10.01 as did Abbie Waltz at 10.46. Foster also finished fourth in the triple jump (35-05.75) and tied for fifth in the high jump (5-01.00).
Erin Schlitzer qualified hit a PSAC qualifying mark of 36-02.00 in the shot put to finish fifth and Clarissa Cummings was third overall in the 1000 with a time of 3:04.44. Justen Johnson qualified in the 400 (51.74).
The Mansfield men's 4 x 400 relay team of Casey Aylesworth, Justen Johnson, Chuckwumereije Otuonye and Victor Garcia finished third overall with a qualifying time of 3:26.36.