RELEASE DATE: 10/17/09
FOR IMMEDIATE RELEASE: Mansfield's Brenae Edwards wins RIT Yellowjacket Invitational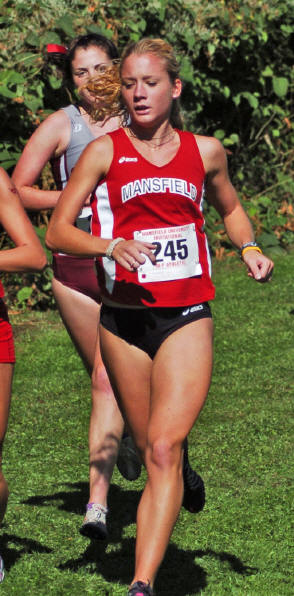 ROCHESTER, NY – Mansfield University junior Brenae Edwards finished first in a field of 115-runners at the RIT Yellowjacket Invitational Saturday afternoon in Rochester.
Edwards continued her exceptional season with finishing the 5k course in a winning-time of 18:16, more than 10 seconds better than the second-place runner.
Kait Cheguidden was 14th overall at 19:09 with graduate student Clarissa Cummings one-second behind her at 19:10. Freshman Becky Kratz was the fourth Mountaineer finisher taking 30th overall at 19:36 with Bethany Coons 44th (20:40) and Kelly Hollenback 53rd at 21:10.
Mansfield finished third in the team scoring with 93 points.
Bud Plaszenski led the Mansfield men finishing 23rd overall with a time of 25:36 over the 6k course. Joe Stanek was 23rd overall (26:20) and Sean Vollenweider 48th at 26:50. Chris Hakes was 74th in the 178 runner race at 27:27.
Mansfield finished fifth in team scoring