RELEASE DATE: 11/07/09
FOR IMMEDIATE RELEASE: Shippensburg sweeps women's and men's NCAA Division II Atlantic Region team championships -- Brenae Edwards finishes sixth to earn All-Regional honors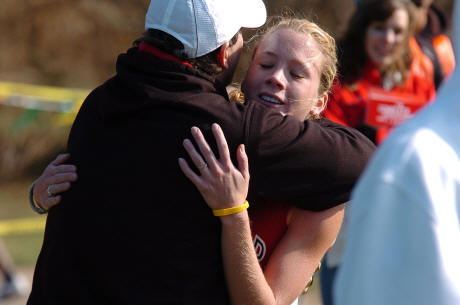 MANSFIELD – Shippensburg University swept the women's and men's team titles at the NCAA Division II Atlantic Regional Cross Country Championship hosted by Mansfield University at the Lambs Creek Recreational Area course Saturday.
It marked the first time Mansfield has hosted an NCAA regional cross country championship.
In the women's race, Shippensburg sophomore Neely Spence repeated as the individual championship with a course record time of 20:15 over the 6k distance.
Edinboro's Ben Hahn won the 10k men's race with a course record time of 31:02.
In the women's competition Spence ran away from the field finishing 26 seconds ahead of runner-up Priscilla Jennings of Millersville (20:41) with Shippensburg's Mary Dell finishing third (20:45).
Slippery Rock's Jennifer Harpp was fourth (20:58) with Mercyhurst's Christie Turak (20:58) out kicking Mansfield's Brenae Edwards (21:04) for fourth and fifth place respectively. Edwards missed a chance to go to the NCAA Championship by one place and six seconds.
Edwards sixth place finish earned her All-Regional honors.
Edinboro's Tina Yi was seventh overall (21:11) followed by Bloomsburg's Angela Borealo (21:45) and Andrea Kellock (21:56). Crystal Burnick of Slippery Rock was 10th (22:04).
Shippensburg won the team title with 86 points followed by Kutztown (100), and Bloomsburg (120) with the top three teams advancing to the National Championship.
Kait Chegwidden and Clarissa Cummings finished in the top 50 by taking 32nd (Chegwidden, 22:57) and 47th (Cummings, 23:20) places. Mansfield finished seventh overall in the field of 22 teams, the second-best finish for the Mountaineer women in the program's history.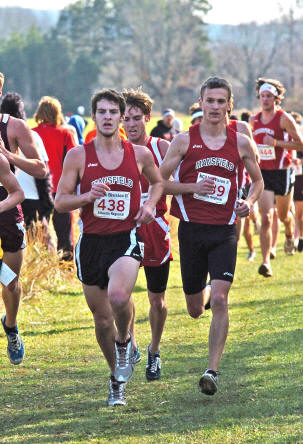 Other top finishers for Mansfield were Becky Kratz (23:49) in 65th place and Bethany Coons (24:13) in 80th place.
Shippensburg pulled off on upset of sorts in the men's race beating Edinboro and defending champion Lock Haven after finishing behind both schools at last week's PSAC Championship.
Shippensburg had four of the first 10 runners cross the finish line led by Bryan Beegle finishing third (31:26), Ethan Rissell sixth (31:53), Stephen Schelander eighth (31:57) and Matt Gillette nine (32:00).
Lock Haven's Nick Hilton was second overall (31:19) with IUP's Hillary Mugun taking fourth (31:30) and Edinboro's Chris Lantinen seventh (31:54). Slippery Rock's Brian Ulrich (32:05) rounded out the top ten.
Mansfield, which finished 10th overall in the 21-team field, had three runners finish in the top 50 led by freshman Bud Plaszenski (31st – 33:02), Joe Stanek (37th – 33:21) and Sean Vollenweider (50th – 34:02).
Other top finishers for Mansfield were Nathan McNabb (34:18) in 56th place and Scott Wilt (35:43) in 99th place.
Shippensburg won the men's team title with 39 points followed by Edinboro (56), Lock Haven (62), East Stroudsburg (118) and Bloomsburg (185).