RELEASE DATE: 10/31/09
FOR IMMEDIATE RELEASE: Brenae Edwards earns All-PSAC honors with sixth place overall finish at PSAC Women's Cross Country Championship – Joe Stanek top finisher for men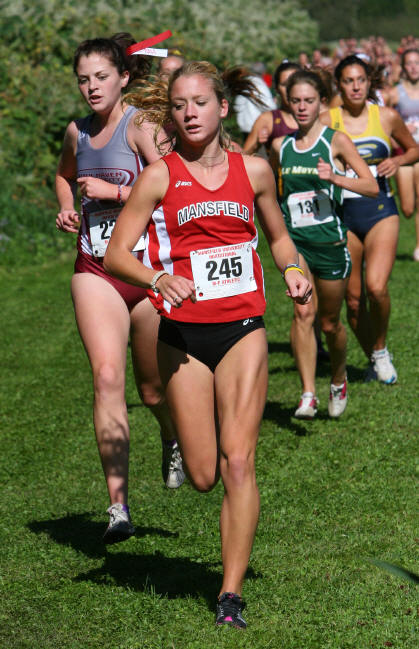 EDINBORO – Brenae Edwards earned All-PSAC honors, recording one of the highest finishes in school history placing sixth overall at the PSAC Women's Cross Country Championship Saturday at Edinboro Saturday.
Edwards continued her impressive junior season with a time of 22:27.5. Neely Spence of Shippensburg finished first with a time of 21:32.4.
Edwards finish was the second –best showing for a Mountaineer runner at the PSAC Women's Champion behind Charity Learn's second place overall finish in 2002.
The Mansfield women finished ninth out of 16 teams at the championship with 236 points. Shippensburg won the team title with 77 points.
Freshman Kait Chegwidden was Mansfield next best finisher placing 29th overall at 24:13.0. Freshman Becky Kratz was 58th (25:05.3) with graduate student Clarissa Cummings 63rd (25:18.7) and freshman Bethany Coons 80th (26:03.5).
Kelley Hollenbeck finished 88th (26:45.0) and freshman Amanda Raun 96th (27:19.4).
Joe Stanek led the men to a 10th place finish in the 15 team field. Stanek finished 29th overall with a time of 27:42.7 with freshman Bud Plaszenski coming in 35th at 27:55.2. Nate MacNabb was 59th overall (28:48.0) with Sean Vollenweider 71st (29:12.8) and Scot Wilt 87th (29:50.3). Freshman Chris Hakes was 88th (29:57.7) and freshman Orion Bernard 93rd (30:09.0).
Mansfield will host the NCAA Division II Atlantic Region Championship next Saturday at Mansfield's Lamb's Creek course.