RELEASE DATE: 10/10/09
FOR IMMEDIATE RELEASE: Brenae Edwards Races to a Seventh Place Finish at the Parkside Rosa Invitational; Bud Plaszenski Finishes Top for Menís Team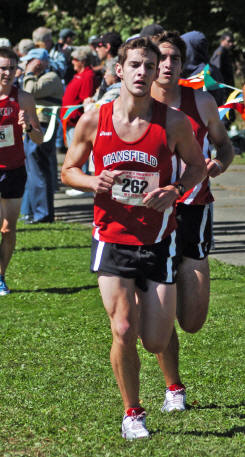 KENOSHA, WI: Brenae Edwards ran an 18:34.6 in the womenís 5K to take seventh place at the Parkside Rosa Invitational which also helped the Mountaineer women to an overall tie for eighth place with Illinois Tech Saturday afternoon.
Edwards was followed by teammates, Clarissa Cummings in 45th place (19:43.1), Kait Chegwidden in 47th place (19:46.1), Becky Kratz in 69th place (20:09.2) and Bethany Coons in 111th place (21:11.5).
Other runners for Mansfieldís womenís teams were Kelley Hollenbeck in 129th place (21:44.8), Irene Primer in 138th place (22:04.7), Margret Bambling in 143rd place (22:16.9) and Amanda Raun in 144th place (22:20.1).
On the menís side of the day, Bud Plaszenski ran a 27:15.0 in the 8K to take 39th place and lead the men to an overall eighth place.
Plaszenski was followed by teammates Joe Stanek in 43rd place (27:20.1), Nate MacNabb in 45th place (27:21.6), Sean Vollenweider in 55th place (27:31.5) and Orion Bernard in 86th place (28:06.6).
Other runners for the menís team were Kevin Cusworth in 100th place (28:21.2), Mike Dennis in 146th place (29:38.9) and Scott Wilt in 150th place (29:48.5).
Saturday October 17th, the Mountaineer cross country teams travel to Rochester, NY to compete in the Yellow Jacket Invite at 12 p.m.