RELEASE DATE: 9/12/09
FOR IMMEDIATE RELEASE: Mansfield opens cross country season at Lock Haven Invitational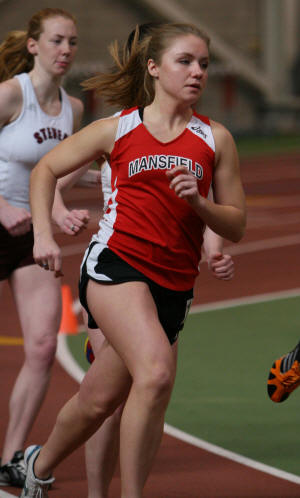 LOCK HAVEN Ė The Mansfield University menís and womenís cross country teamís opened the 2009 season at the Lock Haven Invitational where the men finished seventh out of nine teams and the women eighth.
Competing without most of its top runners, Mansfield still managed to beat Gannon and Pitt-Bradford on the menís side and Clarion in the womenís competition.
Freshman Mike Dennis was the top finisher for the Mountaineer men finishing 43rd overall with a time of 29:22.41 over the 10k course. Freshman Alex Beard was 46th (29:30.21) followed by junior Scott Wilt (48th, 29:31.91), and freshman Jonathan Purdy (51st, 29:44.87). Sophomore Aaron Reardon was 52nd at 29:45.25.
Senior Jess Wagner led the women finishing 51st overall with a time of 26:16.17 over the 6k course. Freshman Margaret Bambling was 53rd (26:28.32) followed by freshman Amanda Raun (59th, 26:50.07), sophomore Kelly Hollenbeck (65th, 27:26.04), and freshman Tabitha Gallagher (73rd, 28:12.56)
Mansfield will host the Mountaineer Flatlander Invitational next Saturday at the new Lambís Creek course.