RELEASE DATE: 9/17/09
FOR IMMEDIATE RELEASE: Mansfield University to host 1st Annual Mountaineer Flatland Invitational this Saturday at new Lamb's Creek Course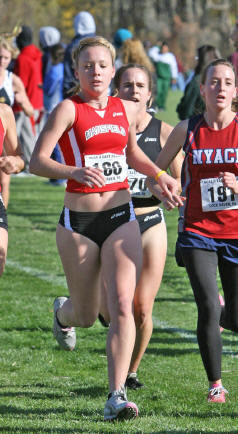 MANSFIELD – The Mansfield University men's and women's cross country teams will host the 1st Annual Mountaineer Flatland Invitational this Saturday, Sept. 19 with both high school and college meets.
"This is really going to be a great course," said head coach Mike Rohl. "We're very excited about it and I certain others will share that excitement when they have a chance to compete on it."
The college men's division starts at 10 a.m. on a 10k course followed by the women at 10:50 on a 6k course. High school races start at 11:30 and 12:15.
Nine college teams including Mansfield, Bloomsburg, Shippensburg, Lock Haven, Clarion, East Stroudsburg, Millersville, Seton Hill and Le Moyne are scheduled to compete.
1st Mountaineer Flatland Invitational
Date: September 19th, 2009
Time: Men's 10k 10:00
Women's 6k 10:50
Men's 6k 11:30
Women's 4k 12:15
Boy's Junior High 2k 1:00
Girl's Junior High 2k 1:30
Boy' High School 5k 2:00
Girl's High School 5k 2:45
Place: Lambs Creek Recreation Area
http://maps.google.com/maps?hl=en&tab=wl
Course: The course is flat, 99% grass and dirt, run around 4 large fields. 85% of the course is viewable from one central location.
Records: New Course
Awards: For all races: Top 2 teams receive plaques
Top 15 finishers in each race receive t-shirts
Questions: Direct all questions to Mike Rohl, Head Men's & Women's Cross Country Coach at: mrohl@mansfield.edu or 570-662-4645 Cell 570-404-2158