Click Here for College and High School Cross-Country Results from 1st Annual Flatland Invitational
RELEASE DATE: 9/19/09
FOR IMMEDIATE RELEASE: Mansfield's Brenae Edwards takes third place in Mountaineer Flatland Invitational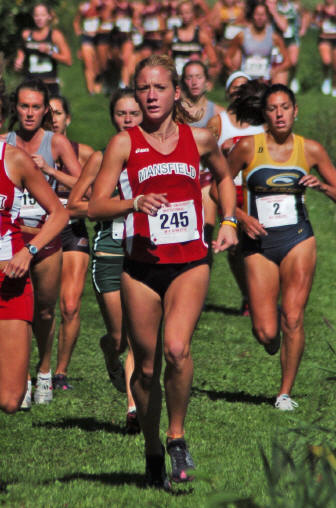 MANSFIELD -- Mansfield University junior Brenae Edwards ran a great race, losing to just two All-Americans, at the First Annual Mountaineer Flatland Invitational Saturday afternoon at Mansfield's new Lamb's Creek course.
Edwards placed third in the 74 runner event over the 6k course with a time of 21:44.60. Clarissa Cummings was 29th overall with a time of 23:45.20.
Freshman Becky Kratz had a strong showing in her first collegiate race finishing 34th overall with a time of 23:53.70. Fellow freshman Bethany Coons was 43nd at 24:26.50 with junior Irene Primmer placing 68th (26:28.30).
The Mansfield women finished seventh of eight teams with 154 points. Lock Haven won the team event with 54 points.
On the men's side, Bud Plaszenski was the first Mountaineer to cross the finish line placing 17th overall with a time of 19:35.20 on the 6k course. Sean Vollenweider was 22nd followed by Nate MacNabb (27th, 20:06.90), Joe Stanek (30th, 20:14.10) and freshman Chris Hakes 32nd (20:20.10).