RELEASE DATE: 9/8/09
FOR IMMEDIATE RELEASE: Mansfield cross country breaks camp with traditional Colton Point Time Trial – Junior Brenae Edwards shatters old record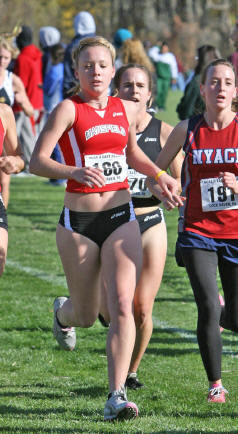 MANSFIELD -- Labor Day is a traditional day of rest and relaxation for many across the country but it was anything but relaxing for the Mansfield University Cross Country team yesterday.
The team ended their grueling three week pre-season with the legendary "King and Queen of the Mountain" time trial up Colton Pont Road. The six- kilometer course for women and 7-kilometer course for men features all the twist and turns of a Tour de France climb and a 700 foot change in elevation.
For the women junior Brenae Edwards, who has been having a brilliant pre-season, ended the training segment with stunning run breaking All-American Charity (Learn) Walker's best time by 7 seconds. She was followed by freshman Kait Chegwidden who set a freshman course record of 26:49. All together five women broke in to the all time top 10 performances.
For the men's team a 21 second gap from first to fifth was the highlight of the day. Junior Sean Vollenweider and freshman Bud Plaszenski led the charge in 26:45 with Bud narrowly missing the freshman record set by Joe Stanek in 2007. They were followed closely freshman Chris Hakes and Orion Bernard.
Head Coach Michael Rohl, now in his 9th year could not have been more pleased.
"We have been running this trial now for 7 years and every year is full of surprises", said Rohl. "This year it was Brenae breaking Charity's course record."
"I wasn't really sure if anyone would ever break that record because Charity just hammered that hill every time she ran it. But Brenae looked as relaxed as ever and looked like she was just cruising. And over all this women's team is going to be very good. The freshmen are just very tough."
Rohl was also pleasantly surprised with the early effort from the men's team.
"We had some surprises on the men's side but the biggest surprise was the 44 second gap between 1 and 5," said Rohl. " To have a small gap on a climb like that is really indicative of a very closely matched team."
All told, four men cracked the top 10 all time list.
Both teams will open the 2009 season this coming Saturday at the Lock Haven Invitational before hosting the Mountaineer Flatland Invitational on Sept. 19 at the new Lamb's Creek Course.
| | | | | |
| --- | --- | --- | --- | --- |
| | | Colton Point | | Colton Point |
| 1 | Brenae Edwards | 25:48 | Sean Vollenweider | 26:45 |
| 2 | Kait Chegwidden | 26:49 | Bud Plaszenski | 26:45 |
| 3 | Clarissa Correll | 28:04 | Chris Hakes | 27:02 |
| 4 | Bethany Coons | 28:14 | Orion Bernard | 27:06 |
| 5 | Becky Kratz | 28:14 | Nate MacNabb | 27:31 |
| 6 | Irene Primer | 30:44 | Kevin Cusworth | 27:51 |
| 7 | Jess Wagner | 31:28 | Aaron Reardon | 28:18 |
| 8 | Bethany Wigfield | 31:28 | Mike Dennis | 28:30 |
| 9 | Kelley Hollenbeck | 31:35 | Scott Wilt | 29:05 |
| 10 | Margret Bambling | 32:43 | Jonathan Purdy | 29:30 |
| 11 | Tabitha Gallagher | 33:07 | Alex Beard | 30:00 |
| 12 | Amanda Raun | 33:07 | Vic Garcia | 30:18 |
| 13 | Meggie Crandall | 34:27 | | |