RELEASE DATE: 2/26/10
FOR IMMEDIATE RELEASE: Mansfield's Clarissa Cummings, Brenae Edwards, Bud Plaszenski, Joe Stanek and Sean Vollenweider named to USTFCCCA Division II Cross Country All-Academic honors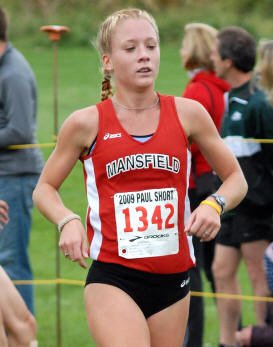 MANSFIELD – Mansfield University cross country standouts Clarissa Cummings, Brenae Edwards, Bud Plaszenski, Joe Stanek and Sean Vollenweider have been named to NCAA Division II All-Academic honors by the U.S. Track & Field and Cross Country Coaches Association (USTFCCCA).
To qualify for All-Academic honors, a student-athlete must have completed at least 12 semester/quarter hours through the semester of competition at the institution to be eligible. The student-athlete must have at least a 3.25 cumulative grade point average and have placed in the top 30% of the total number of athletes eligible to compete at the respective regional championships or have placed in the top 50% of the field at the NCAA Division II Cross Country Championships.
286 female student-athletes qualified for All-Academic honors including 43 from the PSAC the most from any conference in the country.
Cummings and Edwards are both education majors at Mansfield.
152 male student-athletes from across the country qualified for All-Academic honors in 27 from the PSAC – also the highest number for any NCAA Division II conference in the nation.
Plaszenski and Stanek are both majoring in nutrition while Vollenweider is a geography major.
###